Ben Barrell is the sculptor behind the 'Flux' and 'Poldhu Point', featured in Mulberry Square and Whistler Square respectively. Barrell's work has been commissioned for sculpture projects all over the world and includes Monumental Sculptures for public places - Chelsea Barracks now amongst them - bespoke work for private gardens, and exquisite bronzes for interior spaces.
Flux, Ben Barrell
This sculpture was commissioned by a wonderful client of Marshall Murray, who was seeking a combination of elegant sculpture and seating for their garden.  A pair from this edition were cast in bronze and now sit beside each other in their new home.  The form is inspired by the breaking of a wave, at once both powerful and beautiful.
The artist lives by the coast in Cornwall, much of his work is inspired by the sea; the movement of water, the cutting of keels through waves, the lines cut by aquatic animals.  This sense of movement and fluidity felt a good juxtaposition against the structure and clean lined design of Chelsea Barracks' landscape, as well as connecting to the nearby formal pond.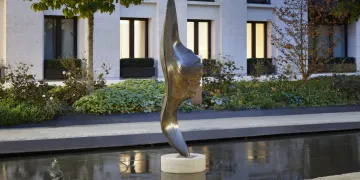 Poldhu Point, Ben Barrell
Marshall Murray commissioned Ben to create this sculpture for Jo Thompson's Wedgwood Garden for the Chelsea Flower Show 2019.  Their brief was to create a sculpture evocative of canals, their being the life blood of Josiah's industry.  Movement and the flow of water were the inspiration behind this form, named after a violent wave formed at Poldhu Point in Cornwall.
As a younger man Ben designed the hulls of boats, one can see this in his sculpture.  Finely balanced, his piece require very little ground support, the lines and flow of his art have a sensation of progress, of speed, of aerodynamics