Douglas White's practice is rooted in the transformation of materials. His sculptures, which are often monumental in scale, have been made using a startling range of discarded or decaying materials including sacking, an octopus printed in its own ink, and dried-up cacti.
Douglas White has exhibited his work internationally in numerous solo and group shows, including exhibitions in London, Amsterdam, Paris and Moscow. 
A graduate from the Ruskin School of Art and the Royal College of Art, White lives and works in London.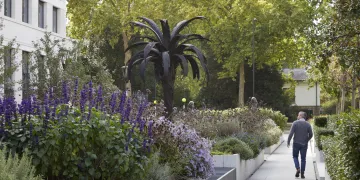 Black Palm, Douglas White
The ideas of change and transformation lie at the heart of White's art.  His pieces are grounded in a deep affinity for discarded objects, both natural and man-made, and his compulsion to transform them into something new and bold.
When industrially grown palm trees are diseased they are set alight.  Their burned and twisted forms impacted a young Douglas White, in Central America for an artist residency in Belize in 2005, inspiring him to create this series of charred trees from exploded tyres found on roadsides throughout the country.
This piece is, therefore, a series of evolutions; from rubber tree to tyre, from waste tyres left on discarded roads and, finally, into the Palm Tree form.  In transforming these tonnes of waste the project begins to imagine an ideal circular economy, where waste becomes a new resource, and everything is transformed.