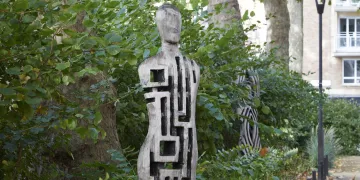 The River in Me and The Lightning in Me, Walter Bailey
Walter worked for years under the tutelage of David Nash, the world's preeminent sculptor in this material.  Using traditional methods and tools Walter carves mainly English Oak and UK-grown sequoia into "celebrations of the collective intelligence of the living world".  Organic, living forms be they semi-figurative or abstracts, there is a consistent sense of motion and vitality that is apparent throughout his pieces.
These two sculptures were created as a pair by the artist in 2021, we set them into the wooded area as a way of showing how intentionally subtle display of work can be effective.  Not all sculptures need to be on plinths, focal points or placed in easy view.  Sometimes it can be highly effective to stumble across a piece, the feeling of a hidden secret can change the way viewers perceive the wider garden.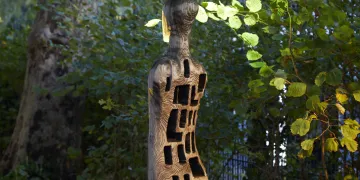 My House has Many Chambers and Angel Form, Walter Bailey
Two pieces created by Walter in 2015, a wonderful way to show how his work ages and silvers in time.  Where some sculptures are maintained, polished and preserved to keep them looking new hundreds of years later, wood as a medium revels in mutability.  Cracks, the silvering of the tones, the slight movement of the drying wood, all give each piece a sense of travelling through time that the artist celebrates.
As per the other pair on Bourne Walk, we have lit these two in opposing ways; from above and behind, as well as from in front and below.  This shows the difference that lighting can have on pieces.  Which set up do you prefer?  Why have we lit each as we have?  When walking a trail such as this it is important to continually evaluate which parts you like, which you do not and, most importantly, why?  We would love to hear your thoughts.