The Sculpture Trail Spring 2023
WOMEN IN ART
The third iteration of the Chelsea Barracks Sculpture Trail has arrived. Curated by Marshall Murray the public art walk and free outdoor exhibition showcase works by world-class female artists, including Jill Berelowitz, Anna Gillespie, Louise Plant and Zeus Li. The Sculpture Trail welcomes the public to explore art amongst the architecture and public grounds, embracing the heritage, creativity and community of Chelsea Barracks.
Jill Berelowitz
Gunnera Leaves
Visitors entering Chelsea Barracks from the Chelsea Bridge Road entrance will be greeted by the sculpture Gunnera Leaves within the water feature, by Jill Berelowitz; whose work featured in Phase I of the Sculpture Trail. Berelowitz was born in Johannesburg, South Africa and has become one of London's most innovative sculptors, known for her bronze, steel and optical resin works. The themes of rebirth, growth and progression are core to Jill's art, fitting for the Spring launch of this Sculpture Trail.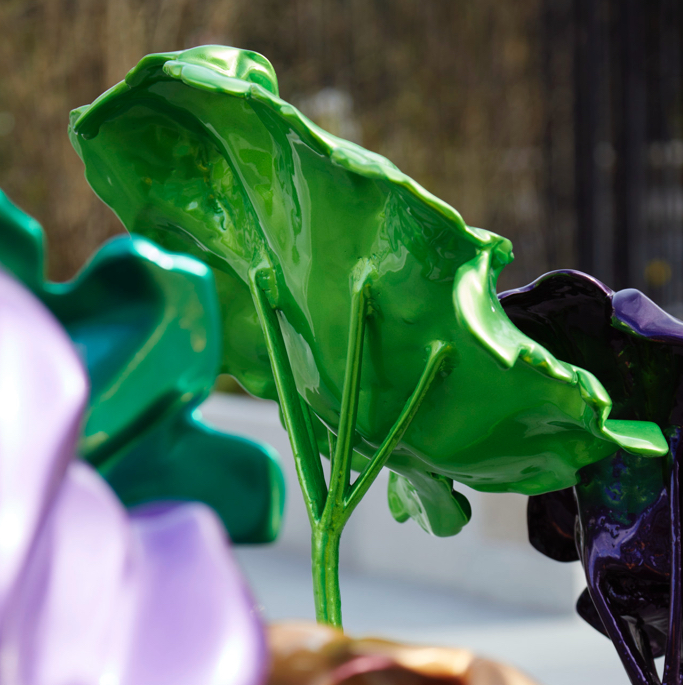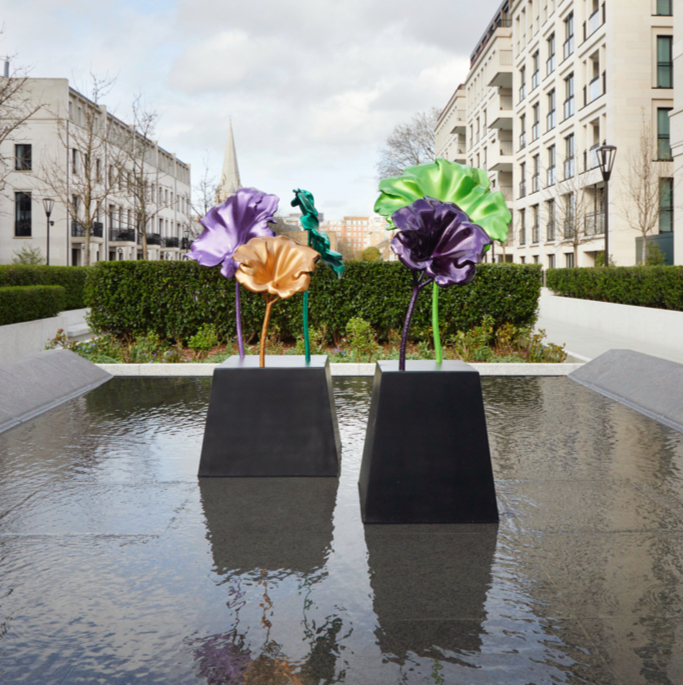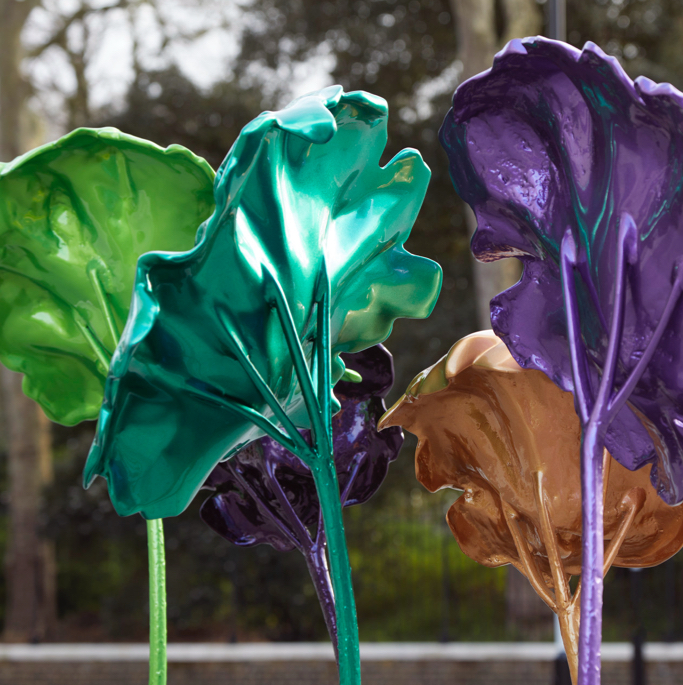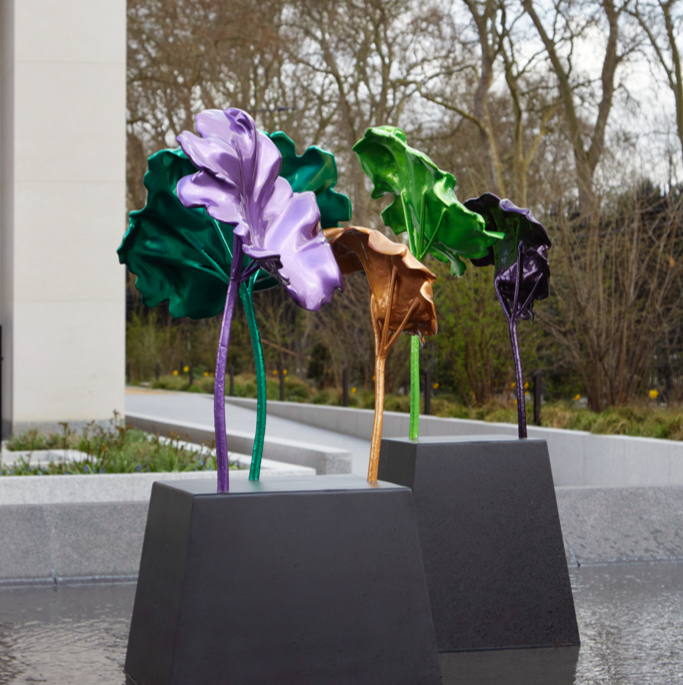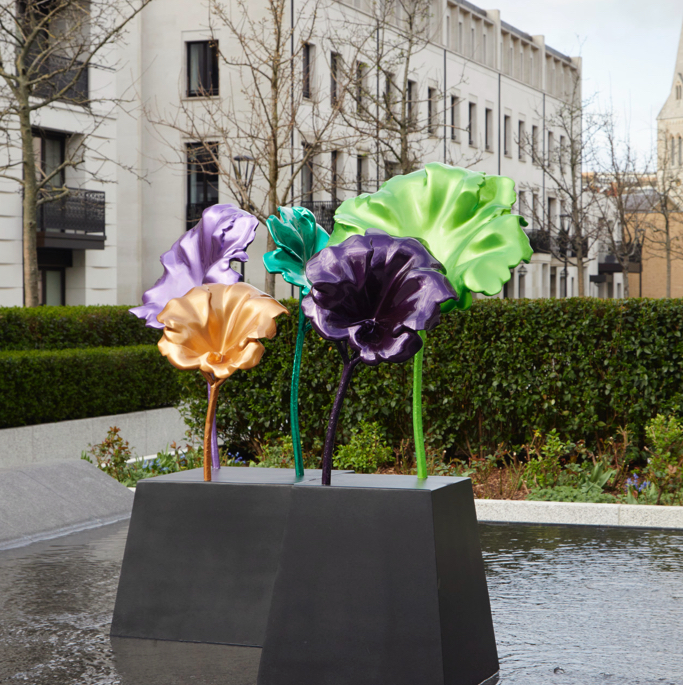 Jill Berelowitz
Persephone
Persephone by Jill Berelowitz takes pride of place in the culinary garden of Mulberry Square standing tall amongst the greenery. Persephone is a recreation of a pomegranate tree in full bronze, this contemporary reworking of the Greek myth celebrates her as the eternal Goddess of Spring.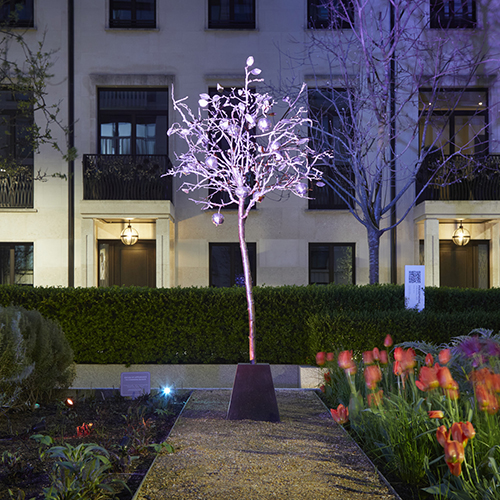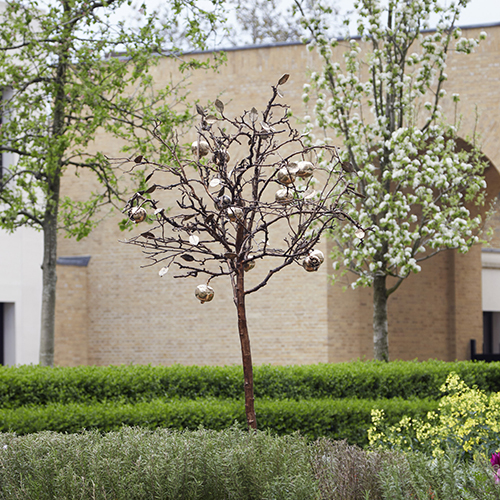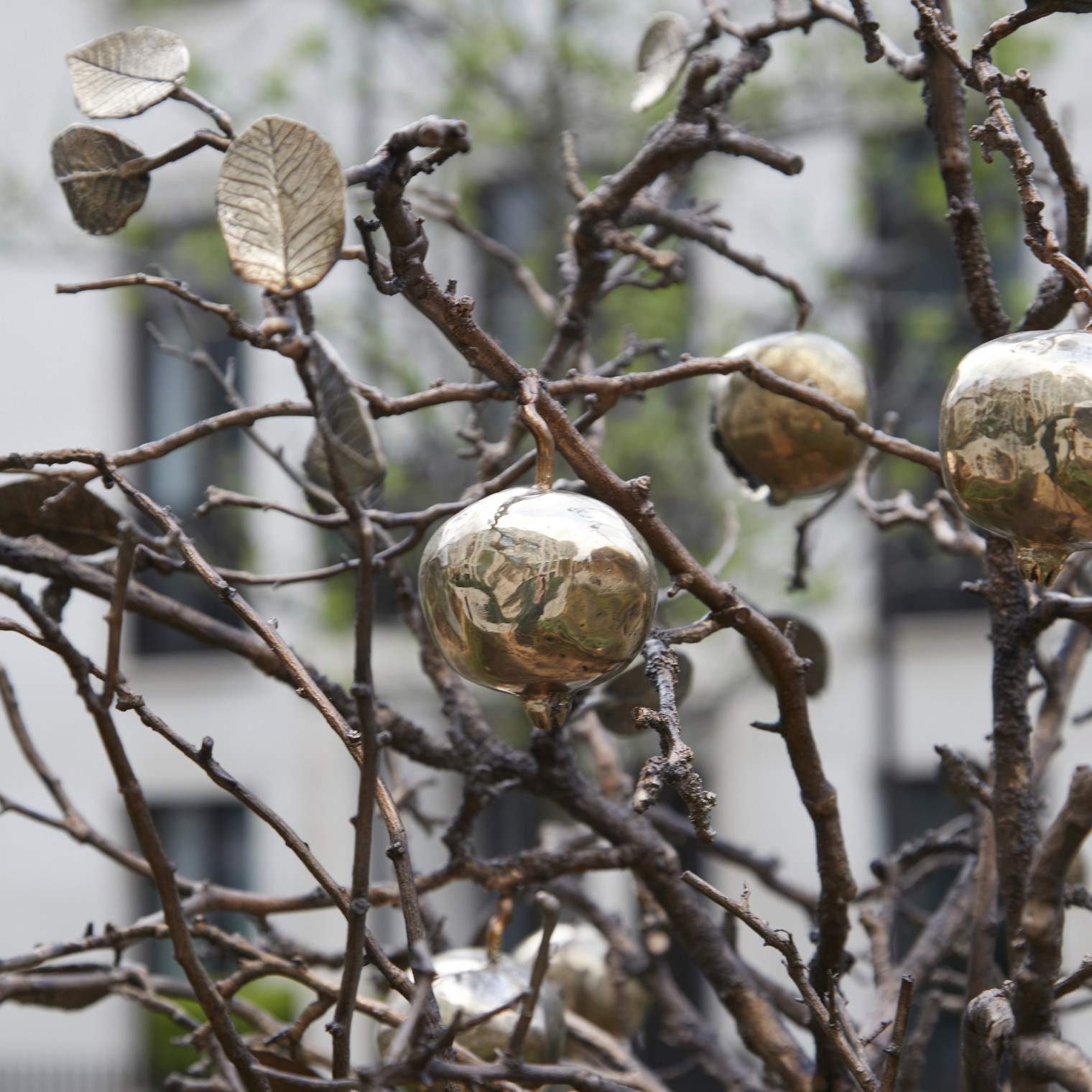 Jill Berelowitz
Gaia
Another of Berelowitz's pieces inspired by Greek mythology is Gaia, which visitors will come across when walking from Mulberry to Whistler Square. The Goddess of Earth in art is presented as the mother and nurturer of all life and Berelowitz has given us a modern retelling through her abstracted female bronze torso that shows women to be both flawed and perfect.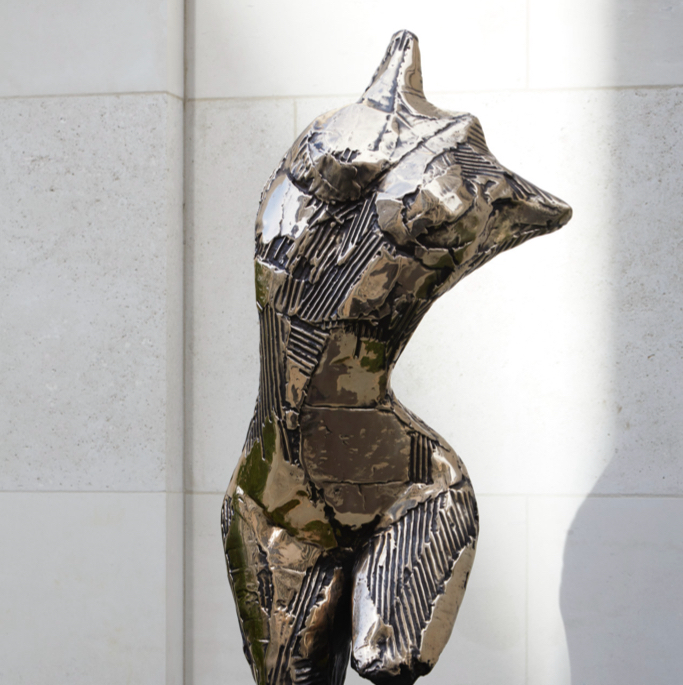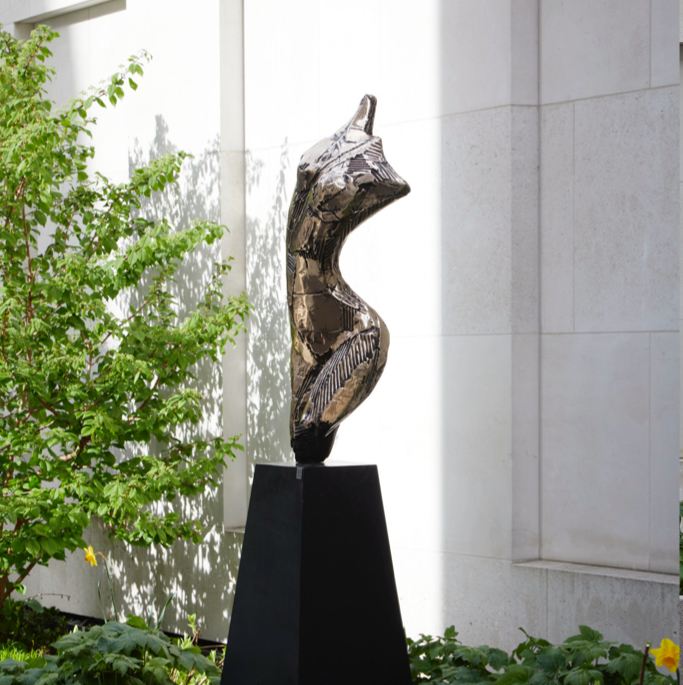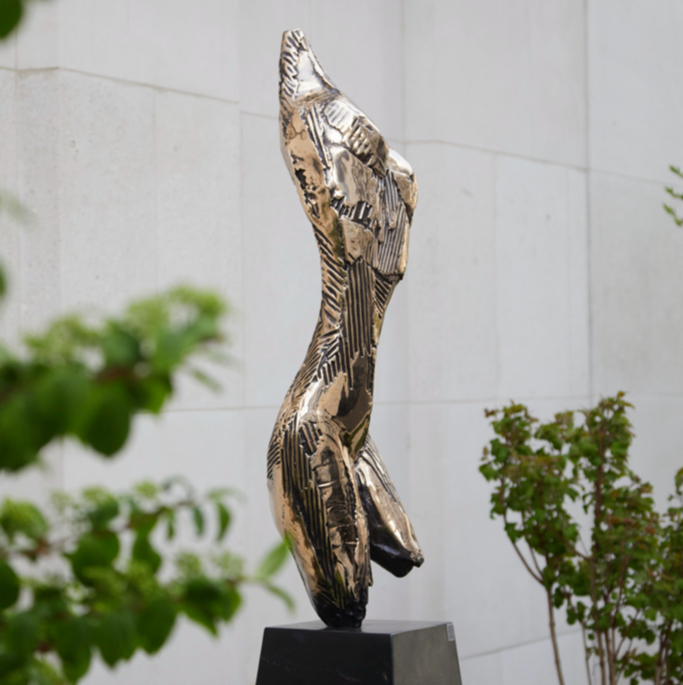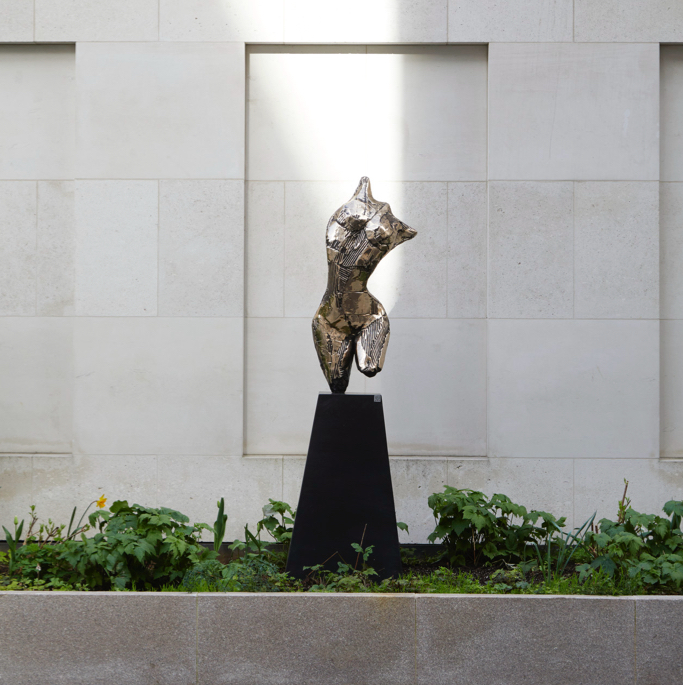 Jill Berelowitz
Timepiece
Jill Berelowtiz's pieces within the trail explore natural shapes and perceptions of femininity; Gunnera Leaves is a bold, vibrant display of nature coming together and Timepiece, positioned in Bourne Walk, explores the beauty of the female form, Berelowitz's belief that this only gets better with age both empowers and inspires and is a contemporary take on a classic art motif. There is a subtlety to the form that means it almost blends in with the backdrop, emerging gradually as one approaches and encouraging visitors to closely take in their surroundings on the trail.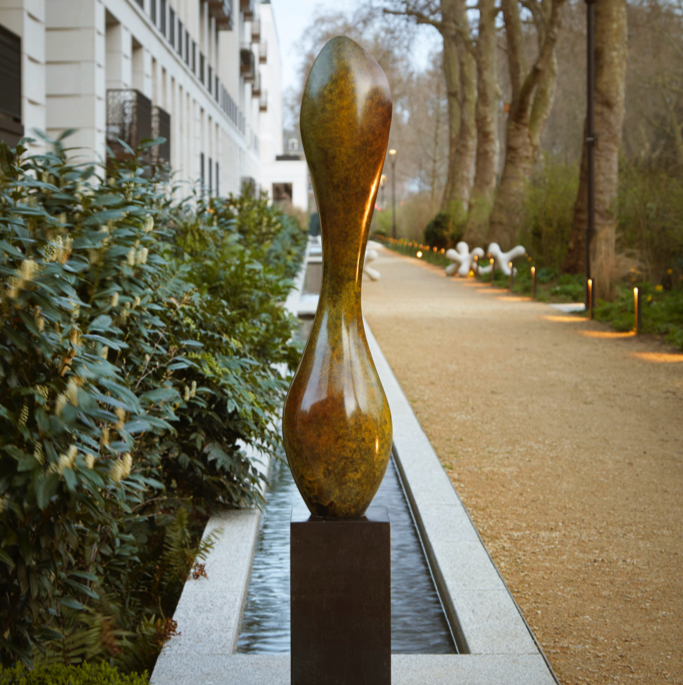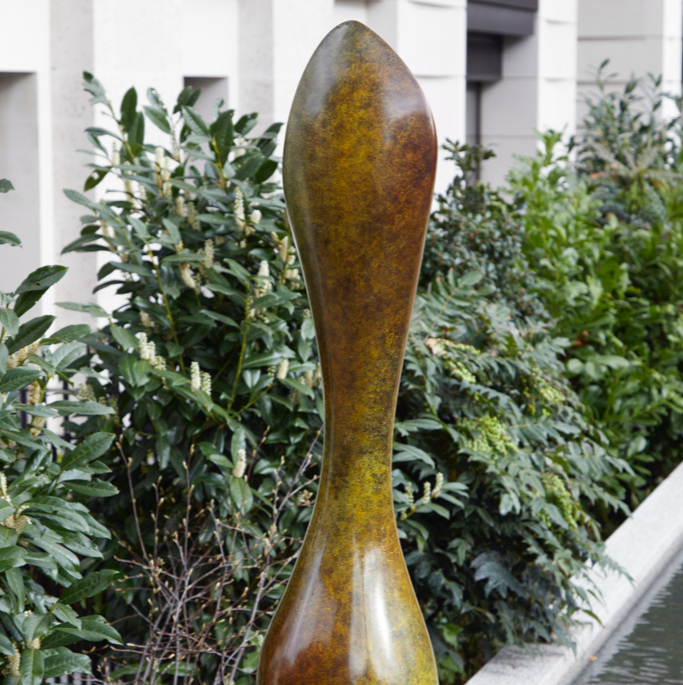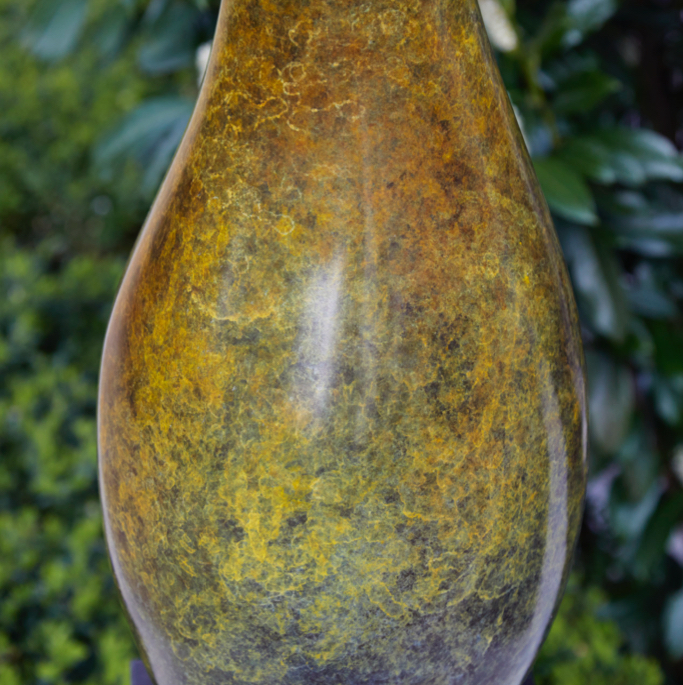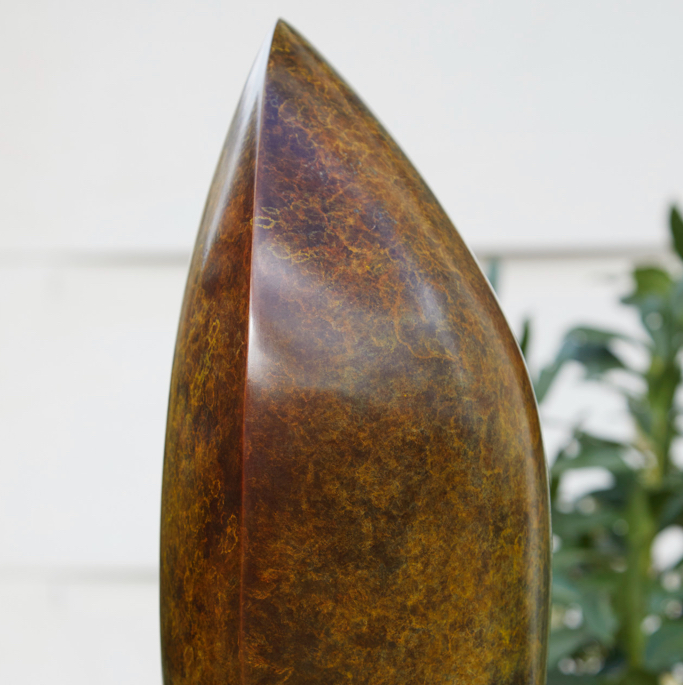 Zeus Li
Will Bear The Land
Will Bear The Land, by Zeus Li, can be found within the Mulberry Square culinary garden. Li is an emerging Chinese sculptor who is currently studying at Central Saint Martins. The sculpture explores our relationship and perceptions of our urban environment - the blurring of the line between inorganic and the natural world is captured in this industrial tree form. Chelsea Barracks strives to champion young talent and Li brings a fresh perspective to Phase III of the Sculpture Trail.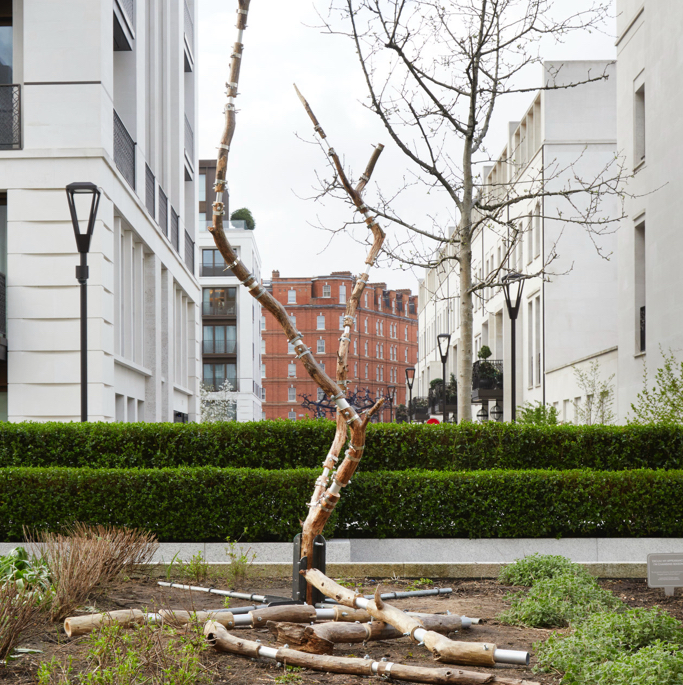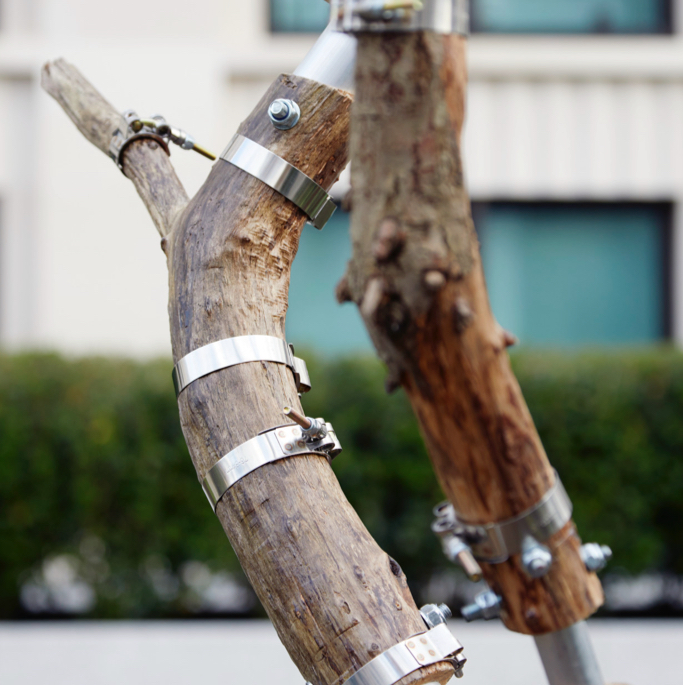 Louise Plant
Portland P's
The Portland P's by Plant are sculptures carved from individual blocks of Portland Limestone and are placed along Bourne Walk, taking influence from the grand scale of the architecture and the beautifully carved Portland stone of Chelsea Barracks. These sculptures possess ambiguous orientation, each individual P stands alone or interacts with another forming a single or multiple sculptural mass. Unique in form, not fixed, the configuration of the individual or the group changes with relation to context and location. The Portland P's are interactive, accessible and can morph in size and shape.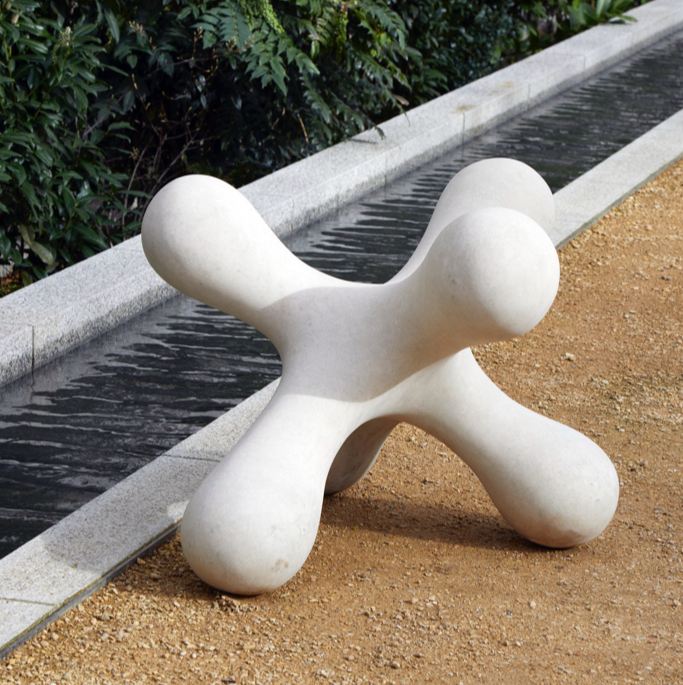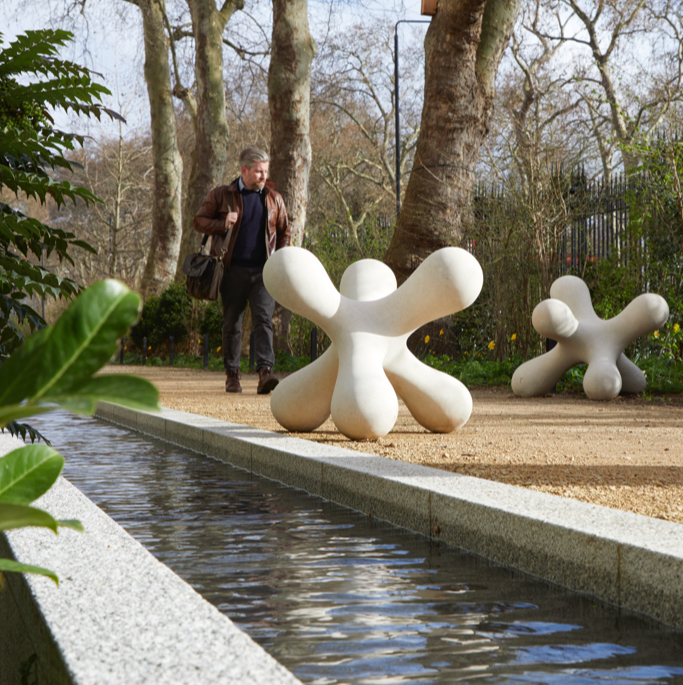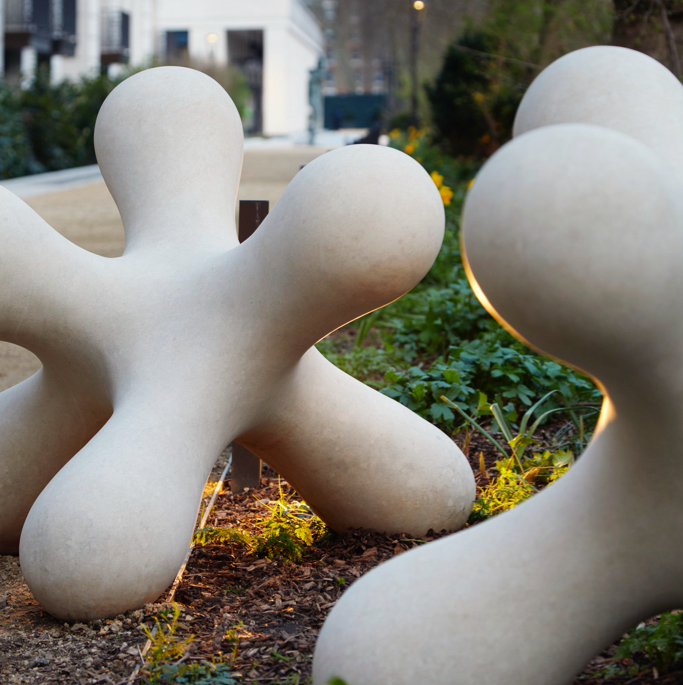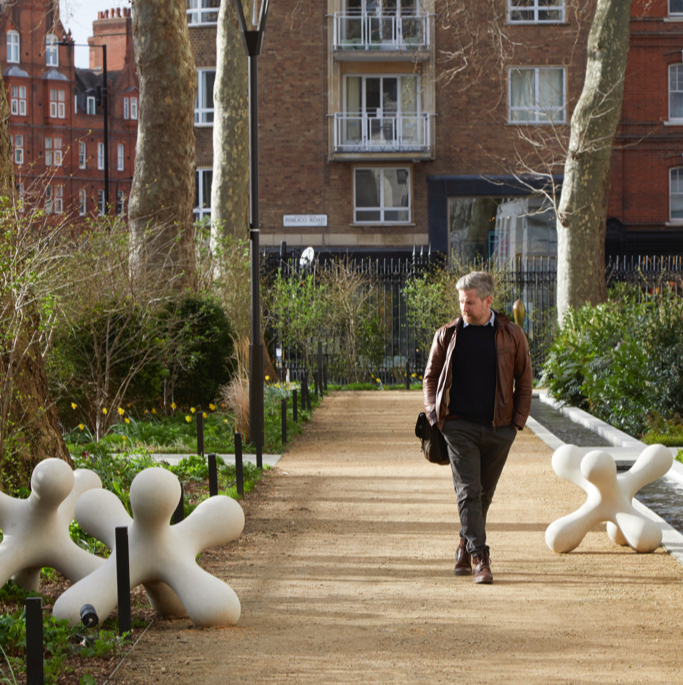 Anna Gillespie
Fuse
Visitors entering Chelsea Barracks from the Pimlico Road entrance will be welcomed by Anna Gillespie's Fuse, within the water feature of Whistler Square. This installation is composed of sections of body casts taken from fellow sculptors, friends and family, celebrating the female body and all its variations. Gillespie is a contemporary British figurative sculptor, part of the Royal Society of Sculptors. She explores personal and political themes through the sculptural human form, using an intuitive rather than conceptual approach and describes her latest work as biomorphic, arising through her fascination with life-casting, looking at the experience of embodiment and how humans are influenced by their surroundings. She challenges concepts of perfection, in the digital age of airbrushed images she draws attention to unusual beauty, vulnerability and strength of the reality of our working bodies.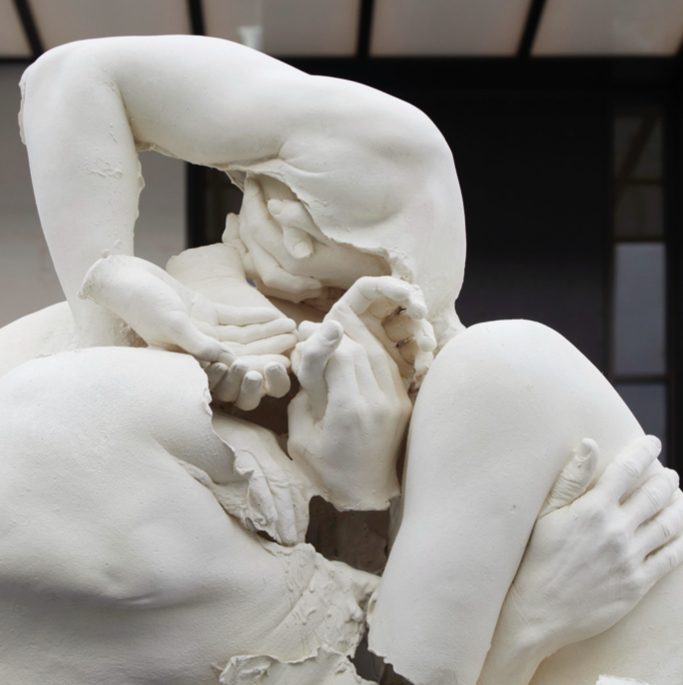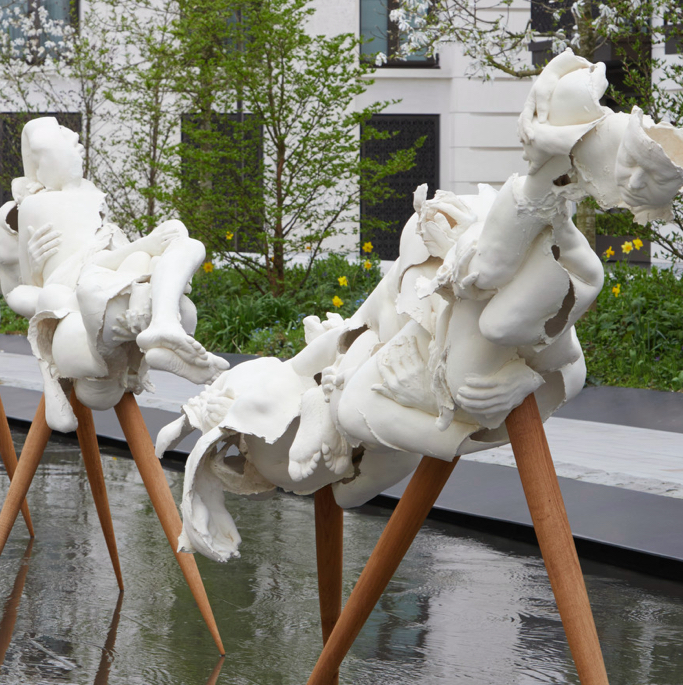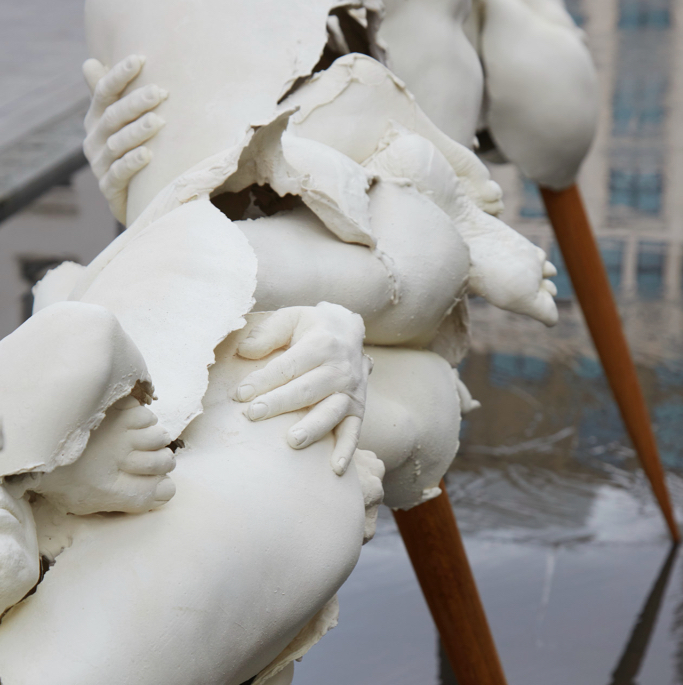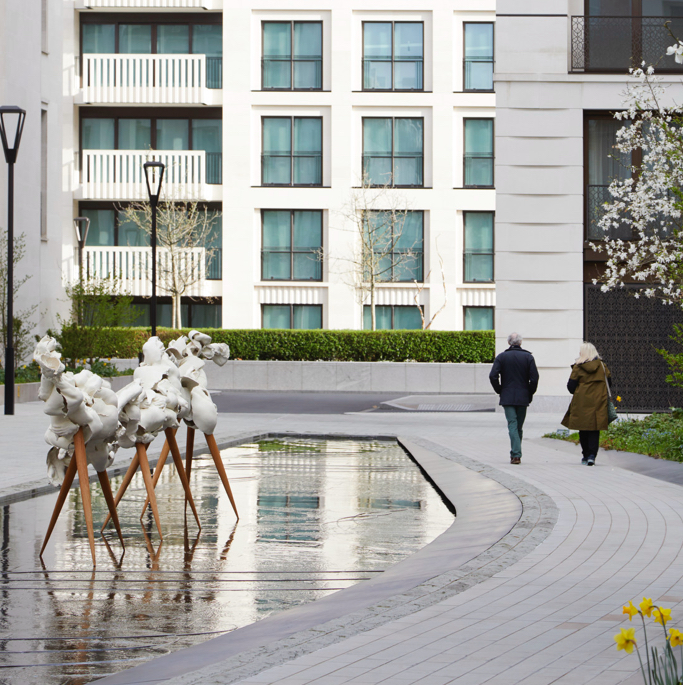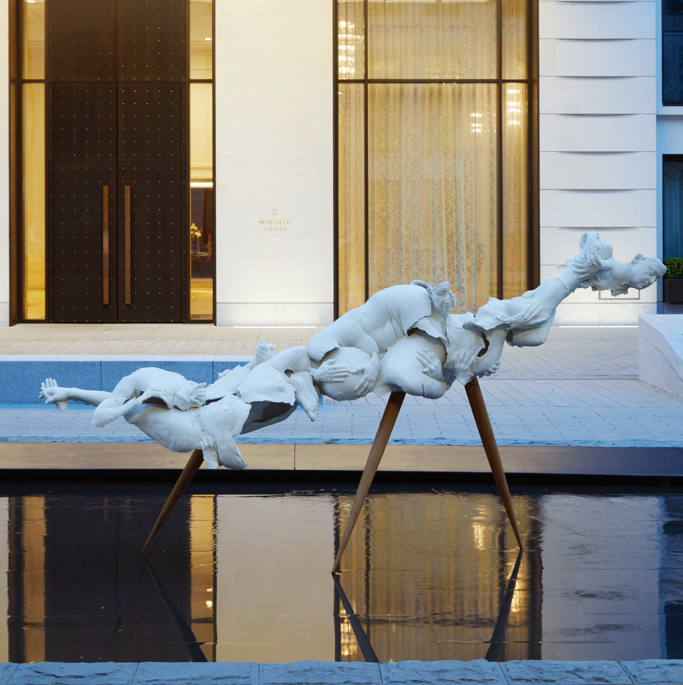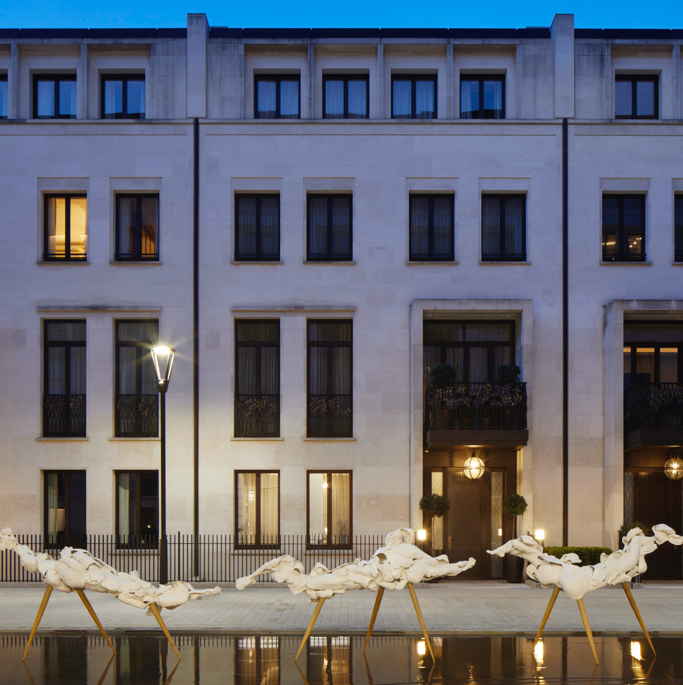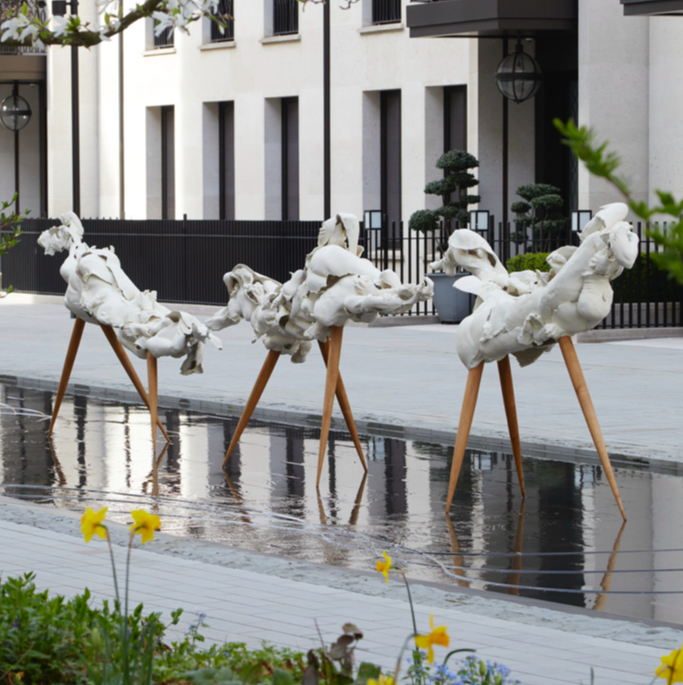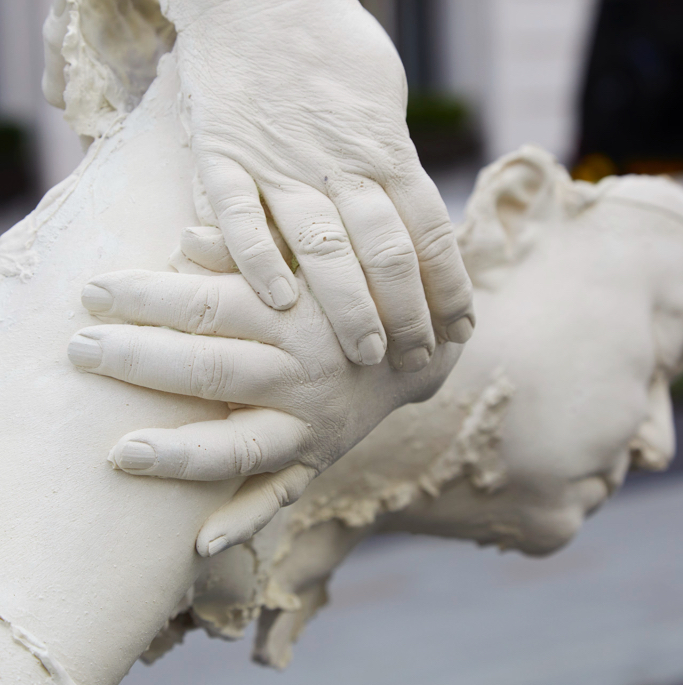 Anna Gillespie
Let Heaven Go
Let Heaven Go, positioned within Bourne Walk in the pathway to the 8 Whistler Square residences, was featured in the Chelsea Flower Show in 2015. The striking bronze figure is part of a series of works in Gillespie's 'Gathering Project' which were created using found environmental objects that attempt to capture something of those rare moments when one is in nature and feels completely in harmony with it.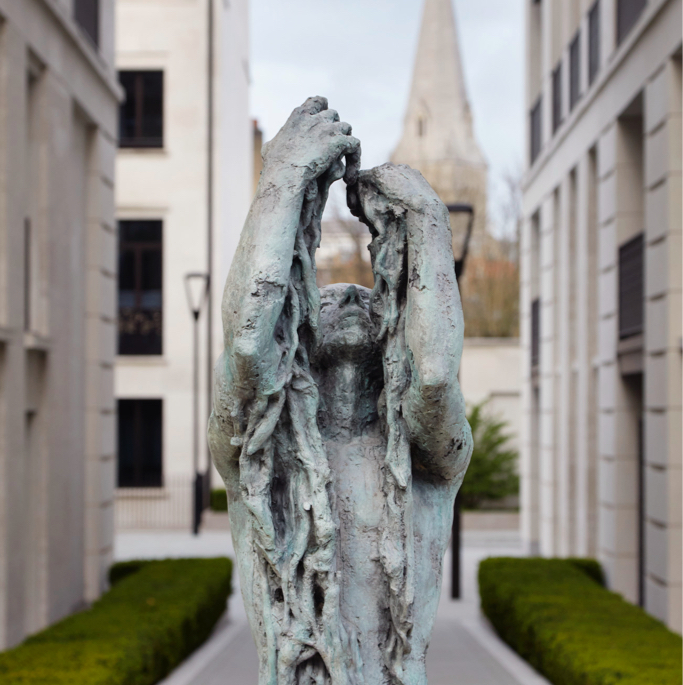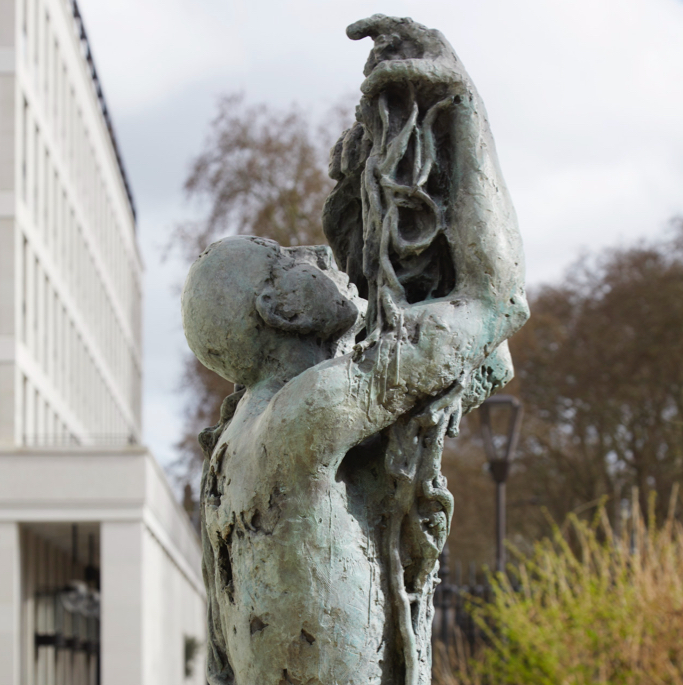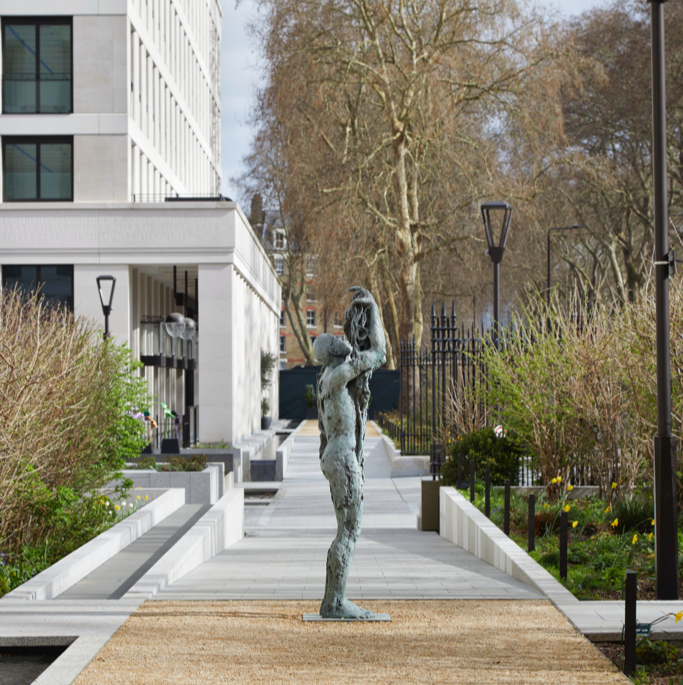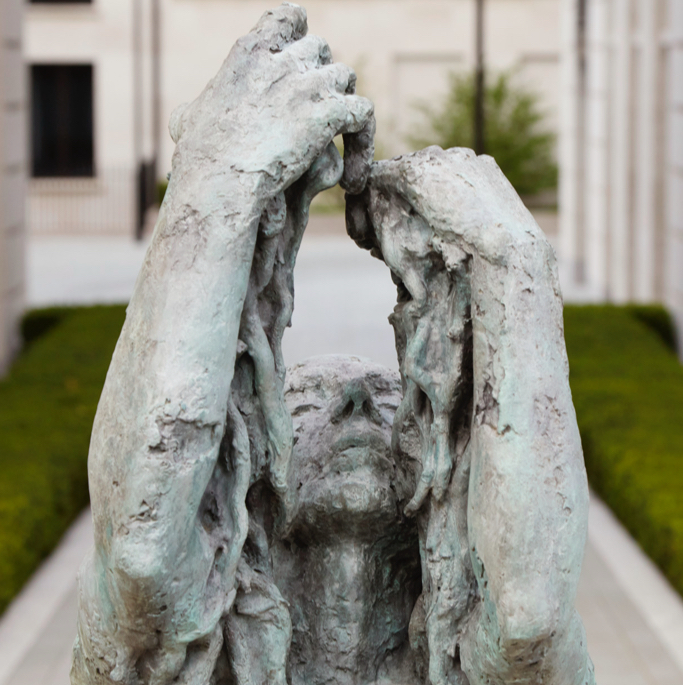 Sophie Ryder
Crawling
Sophie Ryder's piece Crawling is located in the heart of the development – Garrison Square, in front of iconic British Jeweller Theo Fennell's headquarters and near the Chelsea Barracks' restaurant The Campaner, set to open in Spring 2023. Sophie Ryder is a British sculptor, the youngest student after JMW Turner to be admitted to the Royal Academy of Arts, that focuses on scale and enjoys rising to the constructional and creative challenges which flow from this aspiration. Animals are at the heart of Sophie Ryder's art practice and personal life, her enduring character known as the 'Lady Hare' combines a female body with the head of a hare, a mystical creature in folklore and a symbol of rebirth and femininity these playful styles and narratives allow the artist to explore sexuality and spirit. Through her exuberant and anthropomorphic hares Sophie Ryder rejects the groomed beauty and stereotypes of modern femininity for the wild, playful and untameable animal she affirms and recognises within herself.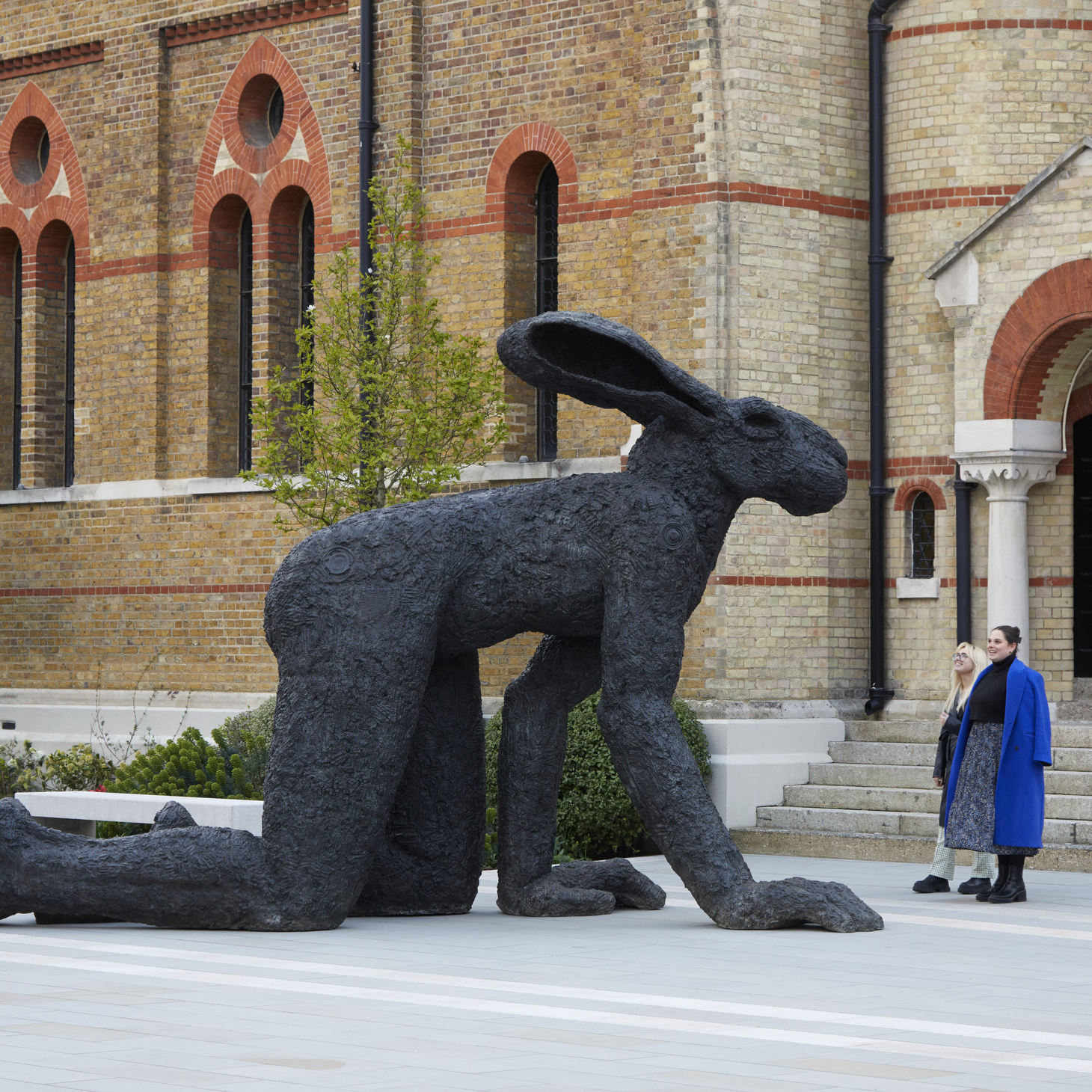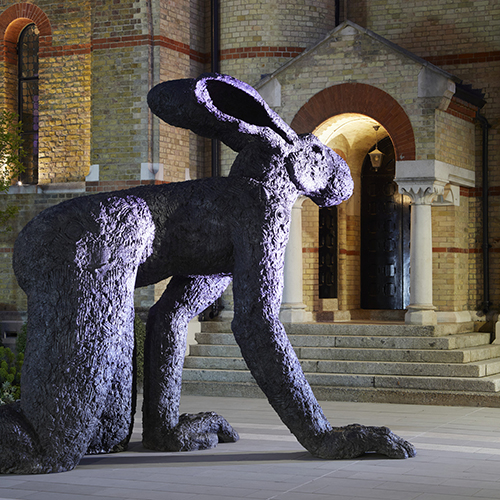 Louise Plant
Stealth 1 & 2
Louise Plant is a British sculptor and Fellow of the Royal Society of Sculptors, fascinated by movement in the natural world and how it occupies space, creating dynamically fluid sculpture from solid, motionless materials, such as marble, stone, bronze, cast iron and steel. Her pieces within the Sculpture Trail focus on her metal sculptures, the raw and industrial finish serving as a contrast to the surrounding architecture.
Her body of work is one of flawless surfaces and precision to produce sculptures of seemingly effortless beauty. Stealth 1 & 2 capture fluid momentum and energy with the outlined pieces drawing visitors to look across Mulberry and Whistler Square, while their reflective material glints in the sunlight.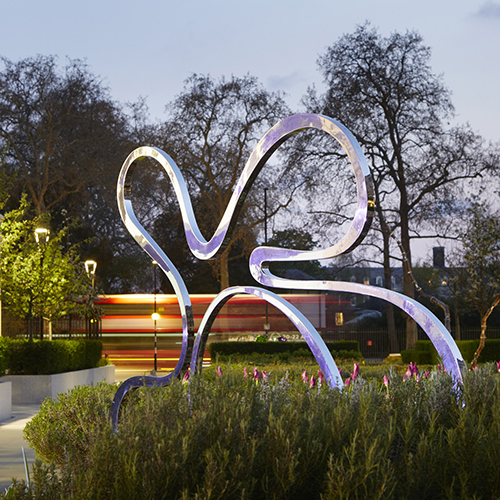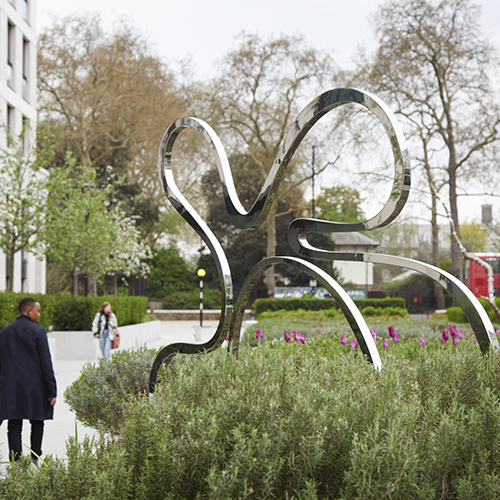 Jill Berelowitz
Golden Girl
The contemporary take on female nude figures in Golden Girl showcases women as confident and multifaceted, challenging perceptions of being sensual or gilded objects. Golden Girl is a brand new piece of work by Jill Berelowitz and is being launched at the Chelsea Barracks sculpture trail.