LUXURY APARTMENTS IN CHELSEA
LONDON'S MOST EXCLUSIVE RESIDENTIAL ENCLAVE FOR ALMOST TWO CENTURIES
Discover the exclusive range of luxury apartments at the award winning Chelsea Barracks. Inspired by the gracious city garden squares of the Georgian period, it represents the most exciting development of luxury apartments for sale in Chelsea for several generations. Designed around spectacular outdoor spaces, Chelsea Barracks unites the very best in architecture and interior design. These residences epitomise elegant living in the very heart of Chelsea.
The ambitious blueprint for additional services will exceed prospective homeowner expectations for such a coveted address. The development offers a full range of private leisure facilities and on-site community spaces to exercise, shop, relax and dine with ease. The development offers a rare chance to buy not only a luxury apartment in Chelsea but also exquisite townhouses for growing families. This thoughtful blend of residences is set amongst beautiful gardens, with green squares planted and curated with a creative flair that echoes the seasonal neighbourhood event, the world-renowned RHS Chelsea Flower Show or the nearby Chelsea Physic Garden.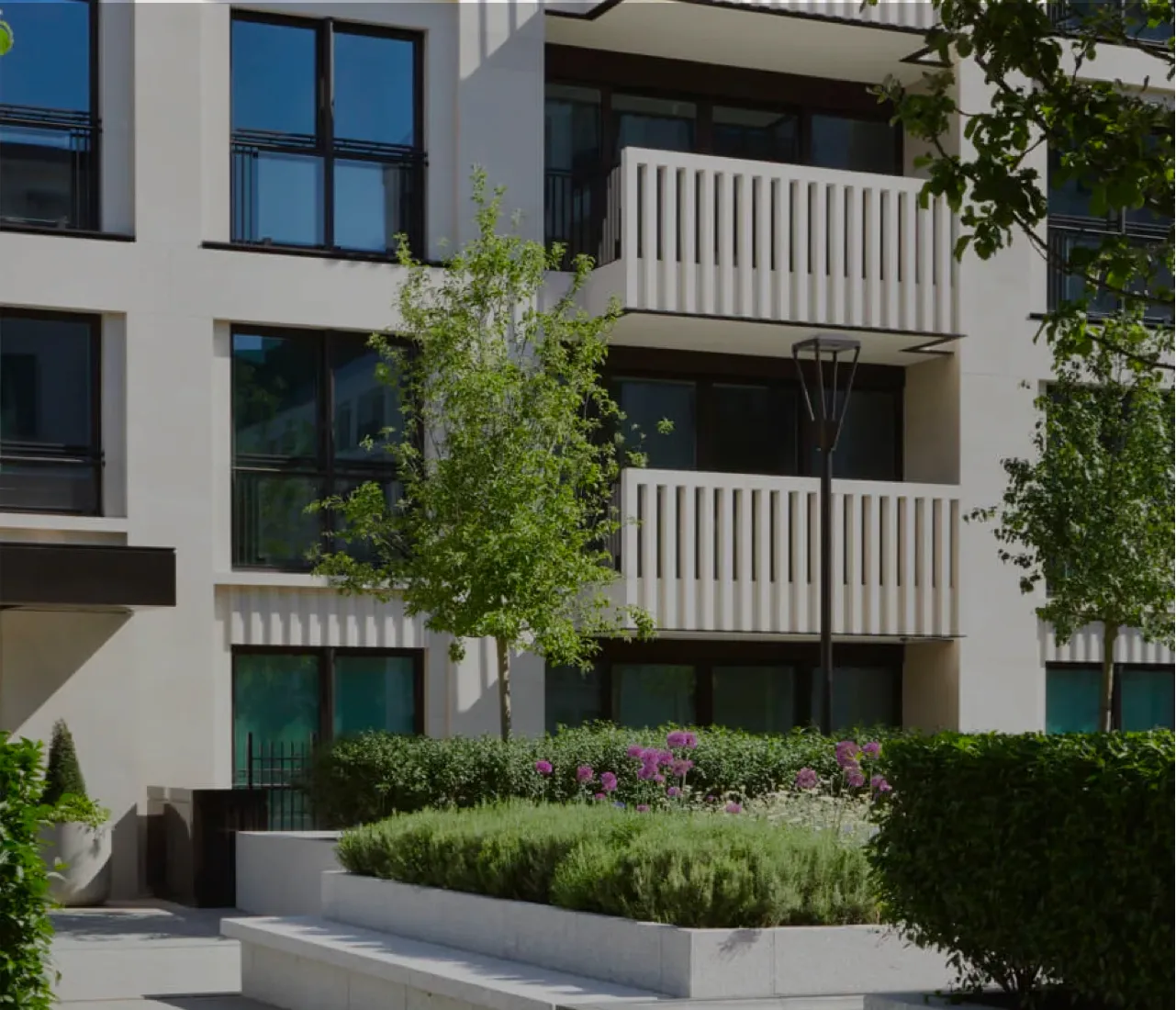 Crafted grandeur
RESIDENCES
Properties For Sale, Chelsea
The exclusive apartments for sale at Chelsea Barracks come with every possible feature a discerning resident could expect. From en-suite bedrooms to world-class architecture and interior design, every feature has been considered and finished superbly to deliver comfort and ease for everyday living.
The Garrison Club located on-site is dedicated to providing residents with opportunities to work, relax and spend quality time with others in style and in complete discretion. Utilise the business suite and enjoy impeccable social spaces such as the lounge, billiards room or the private cinema to entertain or the opulent spa to recharge.
WE BELIEVE THAT BUILDINGS NEED TO REVEAL THEMSELVES AS FUNDAMENTALLY CONNECTED TO THE HISTORY, CULTURE AND PHYSICAL CHARACTERISTICS OF THE PLACE IN WHICH THEY ARE LOCATED.

Michael Squire
Schools in the area
Chelsea and the surrounding areas have an excellent range of educational facilities. Only a short journey along the river is the world-famous Westminster School, founded in the 14th century. The school long enjoyed close links with Westminster Abbey and its existence was secured in statute by King Henry VIII with further royal patronage from his daughter Queen Elizabeth I.
Local History
Chelsea's history is evident at every turn. Architectural diversity abounds, from Regency buildings to gothic Victorian mansion flats. One of the most impressive buildings overlooking Chelsea Barracks is the Royal Hospital Chelsea, envisioned as a retirement home for old soldiers by Charles II and brought to life by the architect Sir Christopher Wren.
Neighbourhood and Peace of Mind
Chelsea Barracks is situated in a cosmopolitan area where personal safety is high. The rate of crime is reassuringly low and significantly smaller than in many other areas of London. The usual building and vehicle security measures will ensure that living here is tranquil and undisturbed. For additional peace of mind, the development includes secure, underground parking spaces for residents, a 24-hour concierge service, and the whole estate is securely managed.
Discover
YOUR NEW HOME
Discover the story of how England's foremost architects masterplanned a new neighbourhood in the heart of Belgravia.
The Area
Chelsea Property Price Trends
Property in this prestigious area of London is highly sought after and worthy of attention from premium purchasers. Prices across a range of homes for sale in Chelsea have performed strongly in the housing market for the last two decades. Since 2000, the average sale price has been on an upward trajectory, remaining stable and returning on capital investment.
The Enduring Popularity of Chelsea as a Residential Area
It is no accident that Chelsea and its neighbouring areas remain one of the most perennially desirable areas of London to live in. Over the years, the fashionable area has become synonymous with a vibrant cultural scene leading to people prolific in the worlds of fashion, art, film, music, and literature making it their home.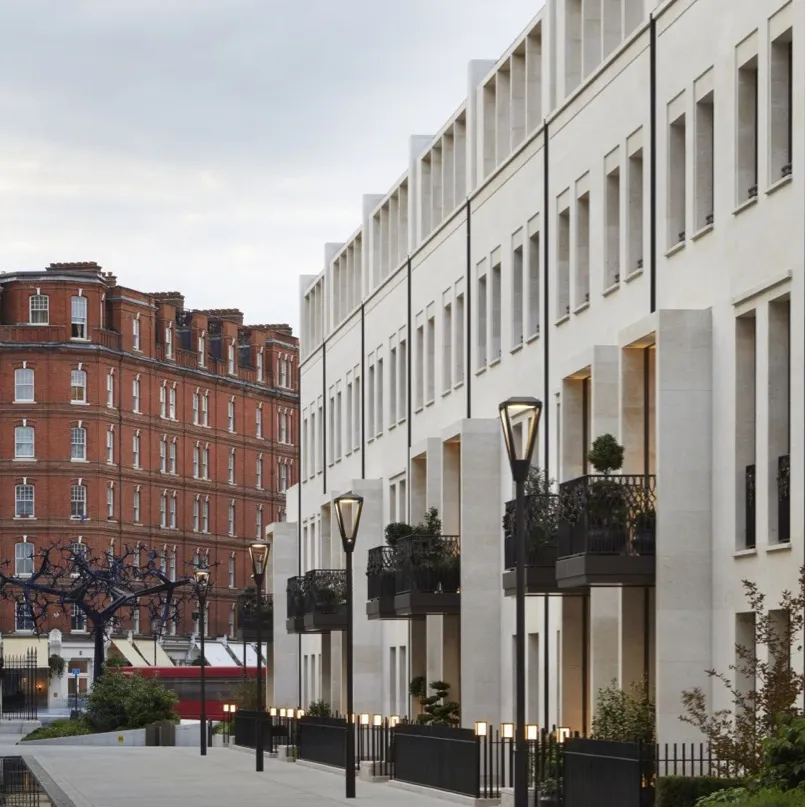 Explore
TRANSPORT LINKS
Connectivity into London's transport network and beyond is exceptional. Chelsea Barracks is situated close to three London Underground stations on the Circle, District and Victoria lines. In addition, it is less than one mile away from the major London train terminus Victoria Station, which connects the city to the railway network across the southeast of England. Major road routes allow drivers to cross the city with ease.
Travel easily worldwide with great connections to Heathrow. The airport is only 15 miles away by road and a short journey of 20 minutes by train from Paddington station. For Europe, Eurostar trains from St Pancras are a mere 6 miles away and connect travellers directly to Paris, Brussels, Amsterdam as well as the entire continental railway network.
For a scenic way to travel through central London, boats can be embarked from 23 piers with Cadogan Pier being the nearest, located on Chelsea Embankment.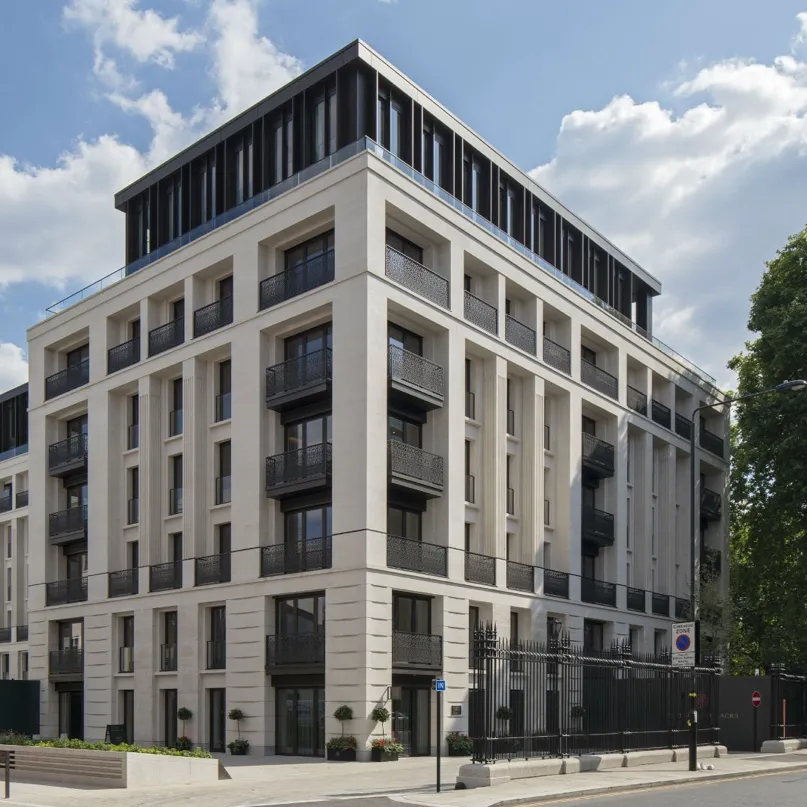 Chelsea Barracks
ENHANCING THE AREA
The development is notable for having dedicated more than 5 acres for public space. Residents' wellbeing and the connection to nature have both been placed at the very heart of the innovative design in one of the world's busiest capital cities. This extraordinary feature has been achieved by planning the luxury apartments and townhouses around no fewer than seven garden squares.
This careful attention to detail successfully brings the outdoors inside, filling the landscape with pleasant green vistas. Each resident can enjoy the bold garden square planting that brings the senses alive with thoughtful and colourful textures and scents.
Through the Garrison Chapel and its exciting programme of curated art exhibitions, brought to residents by Prince's Foundation, patron HRH Prince of Wales, Chelsea Barracks is a valued participant in the rich visible cultural tradition that Chelsea is reputed for. The Prince's Foundation places a particular emphasis on craftsmanship and sustainability, both values that align with and are showcased to great effect throughout the residential development.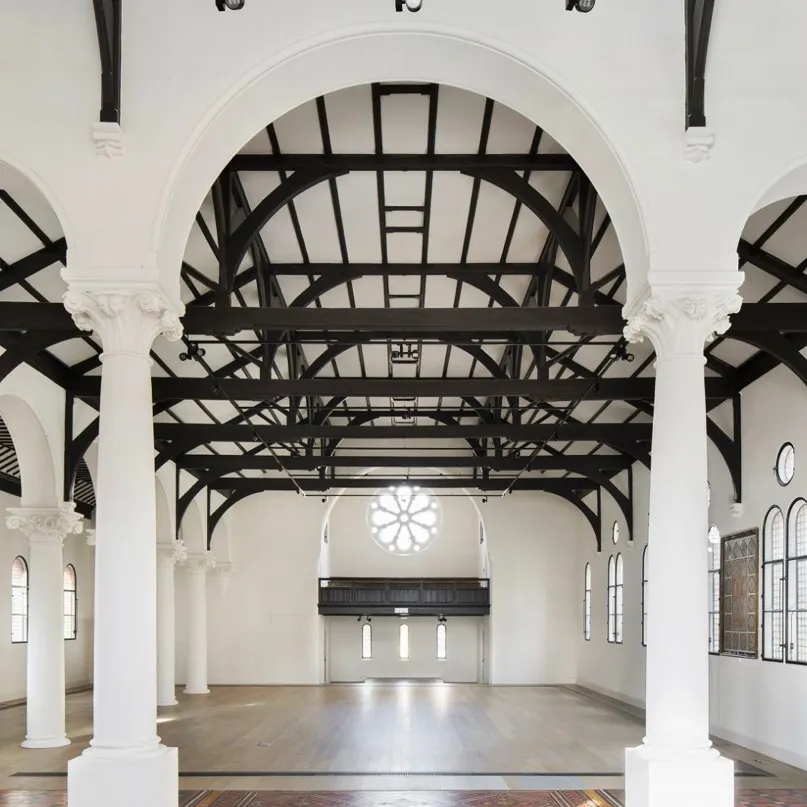 register your interest today
For further information or to book your appointment with our sales consultants please complete this enquiry form.