THREE BEDROOM APARTMENTS IN CHELSEA
EXPERIENCE A NEW CHAPTER OF LIVING
Explore the exclusive selection of three bedroom apartments at Chelsea Barracks, a Platinum LEED certificate winner for its environmentally sustainable building. The historic ex-military base has been thoughtfully designed for families looking for a combination of superior amenities and exquisite design.

The appeal of Chelsea Barracks is its timeless design that respects the history and charm of the site while adding a touch of elegance. The architects have skillfully reimagined classic Georgian styles with contemporary living; a winning combination to stand the test of time and become a future treasure of the capital. Chelsea Barracks represents a new standard of civic architecture as distinguished and graceful as its meritorious antecedent.

The first residents of Chelsea Barracks were welcomed into their long-awaited luxury apartments and townhouses in November 2019. Today, there is a fine selection of three bedroom apartments, ideal for city professionals, families, or sophisticated investors seeking a property in the most coveted neighbourhood in the world. If you are looking for a three bedroom flat to buy in Chelsea, Chelsea Barracks represents the creme of what is available.
Crafted grandeur
APARTMENTS
Our Range of Three Bedroom Apartments in Chelsea
Designed by world-class architects and designers, Chelsea Barracks has become London's most sought after new development and the luxury three bedroom apartments are no exception. 
The cutting edge design has been thoroughly considered and faultlessly delivered in every room. The natural stone of the kitchen worktops work in harmony with the sleek wooden flooring and bespoke cabinetry. The balustrades that frame the balconies complement the large windows to flood the apartments with light and serenity. 
A home at Chelsea Barracks offers the highest specification and will often include underfloor heating, Lutron lighting, natural stone bathrooms, comfort cooling systems, and Sub Zero & Wolf appliances.
We believe that buildings need to reveal themselves as fundamentally connected to the history, culture and physical characteristics of the place in which they are located.

Michael Squire
Interior design
Many top interior designers have been closely involved with Chelsea Barracks, such as Elicyon, who used a mix of fabrics, colours, materials and finishes to create an elegant but functional appearance to appeal to affluent families and professionals.
Exterior design
Squire and Partners, working alongside Dixon Jones and renowned landscape designer Kim Wilkie, were hand-picked by Qatari Diar to masterplan the former Chelsea Barracks site.
The Gardens
Enjoy a prestigious location, effortlessly offering the best of city life with space and beauty. Planted and crafted with advice from multi-award-winning landscape designers, such as Jo Thompson as well as Gustafsen Porter + Bowman, the development surrounds over five acres of beautifully arranged gardens and seven attractive squares to refresh and revitalise.
Discover
YOUR NEW HOME
Discover the story of how England's foremost architects masterplanned a new neighbourhood in the heart of Belgravia.
Explore
Living at Chelsea Barracks
The famously well-heeled central London area of Belgravia is known for displaying many aspects of humankind's desire: Michelin-starred restaurants, high-end boutiques, and a paragon of exclusivity. And in many respects, the Chelsea Barracks development delivers these ambitions to an even greater pinnacle, with all the amenities one could wish for, such as a spa and private cinema to unwind and entertain at the exclusive Garrison Club. In addition, there are many excellent restaurants in the local area, such as Baker and Spice, Mossimans, and Dinner by Heston.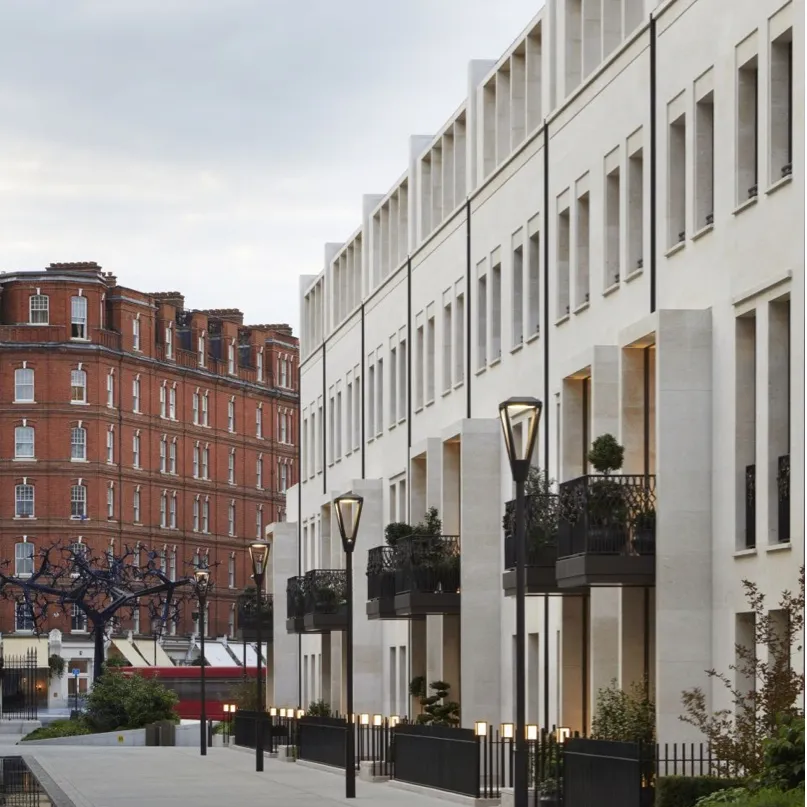 A Green Build
Sustainability Credentials
The eight-floor apartment buildings mirror Belgravia's historic white stucco-fronted Georgian terraces and are constructed from Portland Whitbed – imbued with minute traces of fossils and microscopic marine creatures. This type of stone has much lower levels of embodied carbon than most other commonly used building materials and is known for its extreme durability.
Other thoughtful eco-credentials are the recycling of greywater, green roofs and the deliberate planting of native species to help nurture biodiversity. Chelsea Barracks enhances the locality in every sense.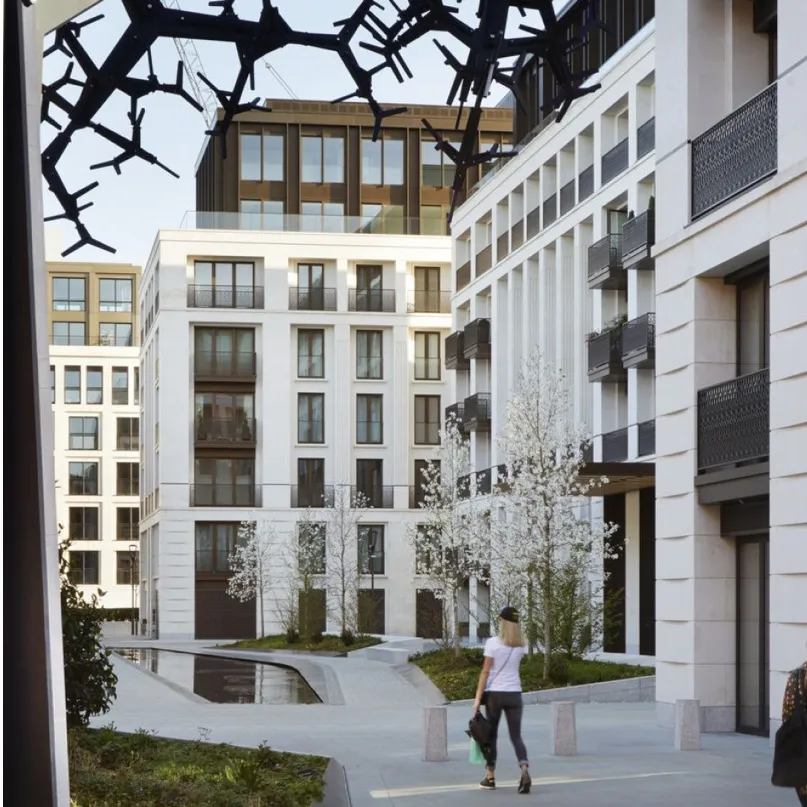 A New Chapter
Why consider our three bedroom apartments in Chelsea
A stone's throw from the grounds of the RHS Chelsea Flower Show is a remarkable range of townhouses and apartments that will appeal to all those who enjoy space and luxury. The expansive living area of the three bedroom apartment for sale boasts glorious views. The south and west-facing double aspect living rooms are filled with natural light and feature two balconies.
Each three bedroom apartment is designed to reflect each owners' discernment, communicating London's inimitable grace and style. Every architectural detail has been carefully considered and curated to the highest standard, providing a sublime retreat from the capital.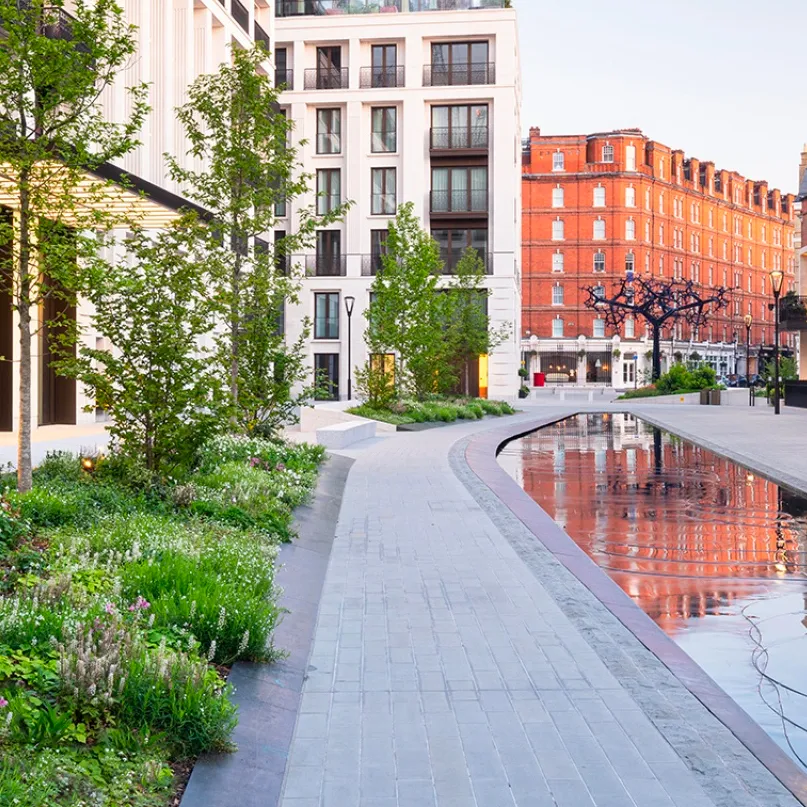 Register your interest
To experience this world-class neighbourhood, located moments from celebrated museums, prestigious schools, and exceptional facilities. Register your interest here to begin the journey.