As part of Chelsea Barracks continued commitment to Public Art, which began with the installation of Bicameral by RA Conrad Shawcross, a sculpture trail will be unveiled during the Spring Fair. A collection of works, curated by Marshall Murray, will display pieces from four renowned sculptors in a never before seen assembly of works. Spaced throughout the development, each piece has its own story to tell and passers will have the opportunity to learn more about each piece along the trail.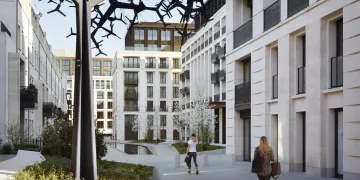 "Marshall Murray is thrilled to have curated the inaugural Chelsea Barracks Sculpture Trail, for which choosing where to place art was as important as the art selected. Working in collaboration with Chelsea Barracks, we have sourced artworks that will both reflect and complement the aesthetic of their surroundings. We seek to change the way people engage with space, rather than seeing art solely as ornament. The sculptures selected are also in line with the wider ethos of the development; its focus on environmental responsibility, championing British studios and taking the concept of progressive curation seriously. Working alongside a team who share these values has been a pleasure and we're excited to talk to visitors about how they can apply the same principles in their own projects"
 - Oliver M. Hawkins, Director at Marshall Murray
The Artists:
Conrad Shawcross RA is a British artist specialising in mechanical sculptures based on philosophical and scientific ideas. Shawcross is the youngest living member of the Royal Academy of Arts. Imbued with an appearance of scientific rationality, Shawcross's sculptures explore subjects that lie on the borders of geometry and philosophy, physics and metaphysics. Bicameral is the epitome of Shawcross's work is the first piece of permanent public artwork at Chelsea Barracks
Jason deCaires Taylor is a British sculptor, environmentalist and professional underwater photographer.  He graduated from the London Institute of Arts in 1998 with a BA Honours in Sculpture. Taylor's pioneering public art projects seek to encourage environmental awareness and lead us to appreciate the breathtaking natural beauty of the underwater world.
Jill Berelowitz is one of London's most innovative sculptors, known for her bronze, steel and optical resin works. Whether pursuing her long-standing passion for the intimacy and movement of the body, or flexibly working to a brief, Berelowitz detailed understanding of anatomy and organic form gifts her work with sensual, contemporary appeal.
Barbara Myers' work relates to ideas of openness, communication and personal development. These themes are reflected in all her sculpture and paintings and particularly relate to her signature life-size figures in outline form , where they are seen to be in communication with each other in order to become complete.