On 7th November 'Bicameral', a major new public sculpture by the celebrated British sculptor, Conrad Shawcross RA, was unveiled at Chelsea Barracks. This reveal marks the first artwork to be installed as part of an ambitious programme of public art commissions created for London's newest neighbourhood.
Bicameral reflects the rich botanical history of Belgravia, with the nearby famous Physic Garden, and pays homage to the use of materials and commitment to craftsmanship at the heart of the new Chelsea Barracks. Now home to an unparalleled collection of residences and townhouses, the former army barracks has been transformed into a new prestigious residential development; as well as community spaces, restaurants and traditional garden squares.
Shawcross has established a reputation as one of the most exciting and highly sought-after artists of his generation. Bicameral is the latest piece of artwork to join Conrad's well-established series of public commissions, including Paradigm at the Francis Crick Institute, London and the upcoming Manifold (Major Third) 5:4 at the new Liverpool Street station for Crossrail.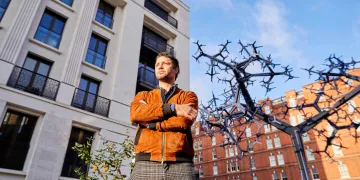 Made of anodised aluminium, standing 8m tall and with 693 component parts which cascade down in scale as they radiate out, Bicameral is an unprecedented structure, created entirely without welding whilst using techniques drawn from Japanese wood joinery. The sculpture will be situated at Dove Place and adjacent to the newly opened Whistler Square – one of seven of the sites traditional garden squares - and will be the first of a series of specially commissioned public art works by major artists to be unveiled on site.
Shawcross commented: "The name Bicameral came from 'The Origin of Consciousness in the Breakdown of the Bicameral Mind', by Julian Jaynes; Jaynes's book theorises that consciousness evolved out of the use of language, particularly metaphors. The sculpture is a progression of bifurcating and trifurcating elements that fan out from a stem loosely forming two hemispheres or sides.
"The work is in some ways an Arcadian symbol for reason, humanity, rationalism, progress, whilst the abstract modular structure oscillates between recognisable natural systems such as neural pathways, a set of lungs, or even a schematised tree itself, but in the end it remains elusive to definition."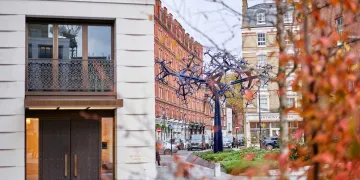 Bicameral is an invitation to stop and contemplate under the dappled shade created by the complex arching canopy of the sculpture's branching forms; suggestive both of a wooded arbour and the neural network of the human brain. The sculpture marks a thrilling new strand of work for Shawcross, an artist renowned for his beguiling sculptures, which are a breath-taking blend of mathematics, philosophy and the natural sciences.
Selected after a carefully considered commissioning process run by commission curators, Futurecity, in collaboration with Chelsea Barracks, Bicameral was chosen by an expert panel which included Melissa Hamnett, Curator of Sculpture at the V&A Museum and Lee Hallman, Head of Design at Qatari Diar, alongside representatives from local businesses and residents.
Lee Hallman, Head of Design, at Qatari Diar said: "Conrad Shawcross has shown true dedication to ensuring his artwork architecturally blends with the streetscape, and is of interest to this new and existing neighbourhood in the heart of Belgravia. The unveiling of Bicameral marks the first in a series of art sculptures that will enhance the public realm spaces throughout this historic development. We further look forward to showcasing our wider commitment to the arts with details of our retained and restored Garrison Chapel, which will act as a central art gallery within this emerging arts destination."
The public reveal of Bicameral happily coincides with the opening of Whistler Square, and the welcoming of the first residents to Chelsea Barracks this Autumn.