Launching this week is a new collection of refined, British-made furniture and homeware from Chelsea Barracks, designed by luxury interior designers, Albion Nord. The Collection is an exhibition of the finest British craftsmanship and marks the first time Albion Nord's designs will be available to purchase. 
Celebrating the age-old tradition of craftsmanship in everyday objects, Albion Nord's design for the bespoke 11 piece collection of accompanying furniture and accessories is exclusive to Chelsea Barracks and emulates a sense of timelessness and progressiveness. 
Designed to be distinctive and elegant whilst at the same time, comfortable, functional and liveable, each piece has been crafted using age-old techniques and has been handmade in Britain.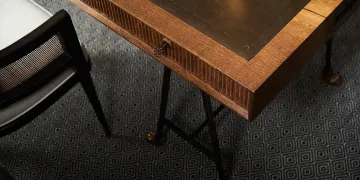 Key items in the collection include a handcrafted, campaign inspired desk, named "The Wellington Desk". Here Albion Nord retained the portability and simplicity of the original military campaign desk but with added details such as the lion claw feet and intricate carpentry. 
"The Belgravia Lamp" is another notable piece from the collection, with a distinctive marble base modelled on the classical architectural proportions of properties in Belgravia.
Not limited to larger pieces, the collection incorporates a range of porcelain tableware which honours the heritage of the Chelsea Porcelain industry, where stucco gained its heritage from, as well as a range of hand-blown Georgian inspired glassware.