Chelsea Barracks is committed to the arts; the site will display art and sculpture throughout with the first piece of permanent art to be installed in the coming months. The piece, designed by celebrated sculptor, Conrad Shawcross, was revealed at Masterpiece in 2018 and will soon be erected in Dove Place, facing the famed design district of the Pimlico Road.
Masterpiece London and Chelsea Barracks share an appreciation for the art history and art community within the area surrounding the Royal Hospital and Chelsea Barracks and endeavour to ensure this locale remains a place that attracts and engages a sophisticated and discerning artist audience. Exhibitors and patrons include many of the world's most distinguished collectors and dealerships and the fair offers an unparalleled opportunity to discover exceptional works for sale.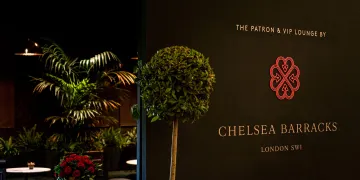 As with last year, Chelsea Barracks delivered a lounge for the Masterpiece and Chelsea Barracks Patrons and VIPs - a space to unwind and recharge. Once again the inspiration for the design was taken from the seven garden squares of Chelsea Barracks; a rich palette of greens formed the backdrop of the space which was embellished with verdant planting and rich textures. This year the addition of a terrace enabled guests to enjoy the lounge while admiring the views beyond: the immaculate lawns and exquisite architecture of the Royal Hospital Chelsea.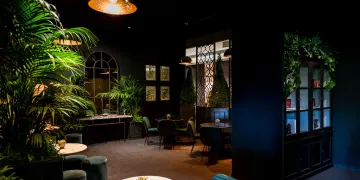 Chelsea Barracks and Masterpiece as a partnership will continue and develop throughout the coming months and we will endeavour to post frequent updates about our joint ventures here. When Chelsea Barracks completes in the coming weeks and the gardens become free to roam, exciting opportunities arise.