Chelsea Barracks has been awarded LEED Platinum certification. As the benchmark for green building certification, LEED Platinum status confirms the development's commitment to sustainability.
Chelsea Barracks is now not only the most significant development in Central London for decades, combining state of the art contemporary living in a historic setting, but is also the most sustainable development in Europe, and one of only 16 developments in the world to reach this standard.
Chelsea Barracks' design principles respond to the needs of its occupants, wider community and also the long-term sustainability agenda. Achieving LEED Platinum ensures existing residents and future tenants will occupy healthy, future proof homes. It is the highest global standard of sustainability to be judged on and has set a new benchmark for developers around the world.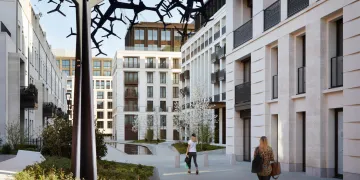 The Chelsea Barracks masterplan set out to create traditional Belgravia garden square living with an unprecedented five acres of Central London green space. For the first time in 150 years, the public spaces created throughout the Chelsea Barracks site are accessible. The gardens highlight surrounding historic views, with the buildings thoughtfully positioned in the spaces between. 40% of the overall development site is allocated to create seven publicly accessible gardens planted with native species, culinary and medicinal plants, and inspired by the nearby Chelsea Physic Garden. The addition of these green spaces adds immense value to residents and the local community in this newly revitalized part of Belgravia.
The design of Chelsea Barracks' collection of super-prime residences, amenities and public spaces are leading the way in green building practices. The developers and architects ambitiously adopted LEED certification benchmarks from the early planning stages and has resulted in healthier interior and exterior spaces for existing and future residents.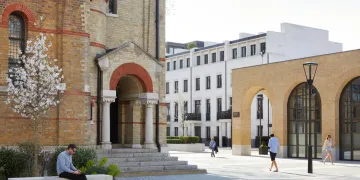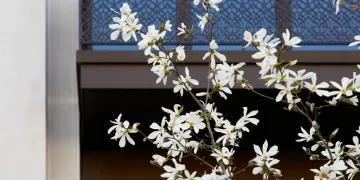 Tariq Al Abdulla, Chief Development and Project Delivery Officer at Qatari Diar, Europe & America comments: "Sustainability is at the heart of Chelsea Barracks and was a key consideration in the planning and implementation of the Masterplan. We are extremely proud to be awarded LEED platinum status which, as the first scheme in Europe to achieve it, is a testament to our commitment to creating a development that sets a new standard for sustainable living in London."
"With residents settled in and the development evolving as it becomes rooted in the heart of the Belgravia community, we can see how the sustainable features and considerations positively impact the lives of both Chelsea Barracks residents and wider London. Future-proofed for the changing needs of the modern world, we're looking forward to seeing how this will continue to enhance lifestyles for years to come and shape our approach to sustainable living in London and beyond."