We are delighted to announce that The Prince's Foundation has taken officially occupancy of The Garrison Chapel. 
The charity, whose president is HRH The Prince of Wales, will be based in the Grade II-listed Chapel and use the beautifully restored gallery space to exhibit elements of the charity's work, with a particular emphasis on sustainability through supporting everything from traditional arts and heritage crafts skills to architecture and design, science, engineering, horticulture and wellbeing.
Chelsea Barracks has always placed huge emphasis on sustainability within the built environment and has looked to the newest technology as well as age old traditions and craftsmanship to ensure we created a destination where communities can live and thrive for generations. The Princes Foundation's raison d'être chimes harmoniously with this founding pillar of Chelsea Barracks; through education, training and financial support, The Prince's Foundation ensure that we regenerate and care for places where communities thrive and visitors enjoy.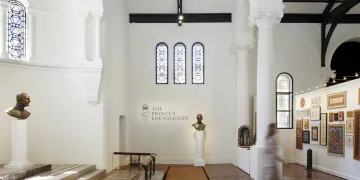 The Prince's Foundation will use The Chapel to host a range of events, classes and functions that are widely accessible for all to encourage connectivity- ensuring that the Chapel continues to play a pivotal role within the Chelsea Barracks community but also the wider Belgravia neighbourhood and beyond. 
In addition, to celebrate The Prince's Foundation's presence at The Garrison Chapel, a replica cast of a bronze sculpture of HRH The Prince of Wales, originally created to celebrate the 40th anniversary of another of his charities The Prince's Trust, has been donated for permanent display by Sir Jack and Lady Petchey. While this bust will be a permanent fixture at the Chapel, it will temporarily sit alongside two other busts of The Royal Family, one of HM The Queen originally sculpted for the Scouts Association in 2007 and another of HRH The Duke of Edinburgh to celebrate 50 years of his London Youth patronage. All three were created by celebrated sculptor Lady Petchey. This will mark the first time all three busts have been publicly exhibited together. 
The Garrison Chapel has been at the heart of the Chelsea Barracks community for over 150 years and through a schedule of exhibitions and educational talks, it will once again fulfil this role – an accessible cultural destination for the whole neighbourhood to enjoy.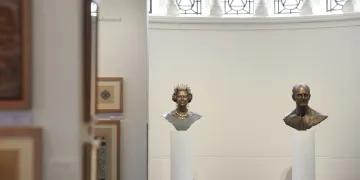 For further info on the foundation and their programme at the Chapel: https://princes-foundation.org/
We will continue to keep the website updated with Chapel exhibition schedules and hope over the coming months and years you will enjoy exploring some of the exhibitions and inspiring talks within it.