After the successful debut of Chelsea Barracks' first Sculpture Trail during the Spring Fair in May, we are delighted to add to our art programme with the launch of its second Sculpture Trail. Unveiled 14th October 2022 the public art walk and free outdoor exhibition is curated around the themes of sustainability and environmentalism. The trail will feature pieces by world-class artists; two sculptures were sourced from the prestigious Royal Academy Summer Exhibition, which this year had the theme of 'Climate'. The gardens of Chelsea Barracks will once again be enlivened by engaging and immersive sculptures - some working with light and sound - allowing the public to explore art amongst nature in the beautiful garden squares. 
The Sculpture Trail's theme of sustainability and environmental responsibility is pertinent and also reflects the wider ethos of Chelsea Barracks. The development was awarded LEED Platinum status in 2021, making it the most sustainable development in Europe. The curation of sculptures by Marshall Murray all explore the modern themes of conservation and environmental activism. The sculpture trail aims to also raise public awareness by guiding the viewer to look at the sculptures in an ecological, environmental and sustainable context, linking the sculptures in the heart of the city to the natural world and initiate conversations about relevant topics like climate change. The artworks differ in scale and medium, from charred wood to bronze, each unique design juxtaposing the architecture of Chelsea Barracks.
Works by Petroc Sesti, Walter Bailey, Douglas White, Jason deCaires Taylor, Ben Barrell, Spencer Jenkins and Paul Vanstone, will be on display for the coming months.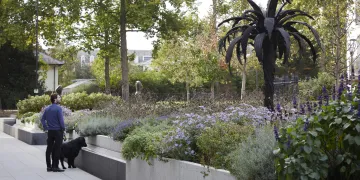 "At the core of Chelsea Barracks' community initiative is a commitment to creating green spaces for people to connect and spend time in. After such positive feedback from the community following our first trail in the Spring, we're delighted to reveal our second installation. The pieces have been curated around themes of sustainability and environmentalism which are at the heart of our ethos, and carefully chosen to complement and reflect their surroundings at Chelsea Barracks. We look forward to seeing both residents and Londoners alike exploring the new sculpture trail over the coming months."
Debora Smith, Head of Placemaking and Partnerships, Qatari Diar  
"Curating a public sculpture trail winding through these beautiful grounds has been a wonderful project. Not only are the individual sculptures reflective of Chelsea Barracks' award-winning focus on Sustainability, they are also a potent yet subtle way to pull people in to the space and draw attention to key views. Too few people are aware that the gardens are public, and we wanted to change that. At Marshall Murray we help clients to see art as a way to change the way that people interact with space, so this has been a fascinating case study in the public square."
Oliver Hawkins, Director at Marshall Murray