Interiors of beauty and distinction
Chelsea Barracks has always sought to honour its heritage, taking immense pride in its sense of place. And when it comes to interiors, this spirit of legacy translates into rooms of great beauty and distinction. In September Chelsea Barracks will unveil the first furnished residence, with an interior inspired by the development's iconic military heritage - here we give you the first glimpse inside...
Elicyon
The first furnished residence to be revealed has been artfully curated and designed by multi-award-winning studio, Elicyon. Elicyon join an immense and prolific team of visionaries who have worked on this project over the years and have sought to bring their own creative flair. Weaving delicate military details, inspired by infantry uniforms and artillery, into the design, this residence subtly honours the heritage of the former 12.8-acre Barracks. Set against an ivory base, the residence experiments with a colour palette of various shades of blue - from pale midnight to shades inspired by the Chelsea Pensioners' navy undress uniform. At every touch point, Elicyion have considered the context, creating a most intriguing and genuinely authentic interior that reflects the unique positioning of this residence, overlooking Royal Hospital Chelsea. The result is a showcase of design that exhibits the local, the distinct and the original.
"We feel hugely privileged to be involved in this truly unique development; it's unusual to be part of a project that allows us so much creative freedom with the materiality." Charu Gandhi, the Founder and Director of Elicyon.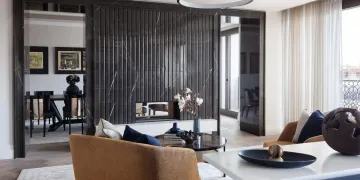 A significant moment
The first of seven residences that will be dressed at Chelsea Barracks, the designers have endeavoured not to be driven by fashion or trends but to create something timeless, something uniquely Chelsea Barracks.
"The unveiling of our first show residence at Chelsea Barracks is a significant moment for us. We are proud to showcase the attention to detail we and our partners have gone to, in order to create an exquisite home and lifestyle offering." Richard Oakes, Chief Sales and Marketing Officer