'It's like a dance. You know where you have to be, you know the moves you have to make. And when it's smooth it's great - when it's great it's smooth'. When Albion Nord asked Stewart Hearn and his London Glassworks team to produce glassware for the Chelsea Barracks Collection, there was a great deal of excitement at the studio. 'It's the sort of work we want to make,' Stewart tells us. 'Very precise, very high end, beautifully designed and hopefully beautifully made.'
Indeed, it is easy to see why Stewart and Chelsea Barracks are a perfect fit. As soon as we sit down in his Cambridgeshire studio, he strikes us as an artisan who's also a consummate artist, a craftsman utterly in thrall to his work. 37 years after he entered the world of glassblowing, Stewart remains as passionate as the first day he sat down at a bench.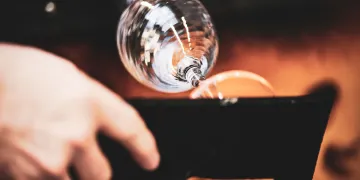 Since graduating from Sunderland University in 1986, he has totally immersed himself in the art of glass. The journey has taken him to the Scottish Borders and to Bornholm in Denmark – though a desire to master the English, as well as Scandinavian style of glassblowing, brought Stewart to London. Since then, he has lectured at universities and served as a designer for Dansk, founded two studios, been named a Balvenie Master of Craft, and ultimately relocated his London Glassworks practice to the Fens.
Forget half full; Stewart's glass is clearly overflowing – yet he has consciously resisted the urge to expand. 'Selfishly,' he proclaims. 'I've worked with larger teams, but you end up being more of a manager. I've trained for a long time to be a glassmaker and that's what I want to be. I want to be the person making the glass – I don't want to be going off finding orders for my staff to make the work, and I just watch.'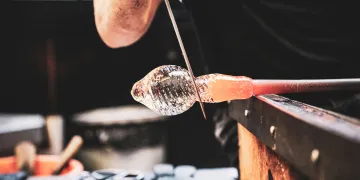 Of course, such commitment is rooted in enthusiasm. 'I've always been a pyromaniac, which is the first and most important part of being a glassblower,' Stewart says laughing. Yet, even as he jokes, a reverence for his art shines through. 'You have to really want to do it – I love doing it. I wouldn't want to do anything else,' he coos. Equally, he realises part of his mission is 'to spread, to keep the craft going'.
Though most of his assistants arrive with a degree behind them, the technicalities of glassblowing mean they still have much to learn. Stewart is a keen and dynamic teacher, delighting in their progress. 'Getting the knowledge from your brain to your hands is practice,' he explains. 'It's very intimate here. We work very closely together: you have to read each other's minds ; you have to be working with them and ahead of them. Don't get me wrong, there's days when everything goes on the floor. But, when it flows, it's great.'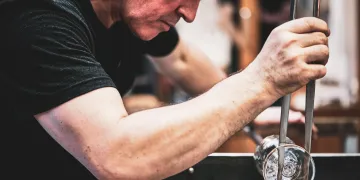 Stewart's modesty notwithstanding, there is no doubt that the Chelsea Barracks glassware will be gracefully rendered. He and Albion Nord spent four weeks crystallizing the designs – figuring out the ideal form for the water glass, mulling how stems should attach to the wine glasses – while crafting the 124 pieces took another month. 'We don't make many a day,' Stewart reflects, since the process is an exacting one. The glass has to be gathered, shaped and hollowed, before ribs are added and twisted to produce an elegant spiral pattern. Only once these steps are complete can stem and foot be attached. Though the task has thrown up its fare share of challenges, Stewart has relished it from start to finish. 'It's been fantastic,' he says, glowing.
Creation complete, the glasses can now begin lives of their own. Of course, such sublime pieces demand special homes, and Stewart and Albion Nord can rest assured that the glassware they have so lovingly crafted will sit proudly in the Townhouses for many years to
come. I think we can all drink to that.