Meet Mar, the creative visionary behind The Campaner Restaurant, recently opened at Chelsea Barracks. A culinary venture rooted in genuine hospitality.
"I grew up in the countryside with fresh local produce; freshness and quality ingredients in a kitchen is what I have always known."
From the outset of Mar's career, food was a passion and ever present. Working in demanding Human Resources role, her willingness to offer advice and consultation about restaurants, often for free, emerged as a sign of her generous spirit, as well as her genuine love of the restaurant business. And her talents were known by those who were in it. IT was long until she was wooed away to work on a concept for what would become "The Martinez". 
Her valuable insights and passion culminated in the birth of the "Martinez" a decade ago, a remarkable culinary haven nestled in the mountains of Barcelona. Yet, "Martinez", as Mar explains, is more than a restaurant, it is a place where families find solace and warmth. Each member of the team plays a vital role in creating an authentic atmosphere that impresses both regulars and first-time visitors; Mar has established in the Matinez a restaurant of institutional status in Barcelona. 
With institutional status cemented, Mar has turned her attention to London and a new venture, her first outside Spain. With The Campaner Restaurant in London, Mar returns to her Barcelona roots. The concept is elegantly simple - it's about sharing. Mar explains: "In Spain, we share not only food but also experiences, chats and drinks. The concept was simple: combine different tables to create a sense of togetherness and have an open kitchen. Our focus was on sourcing the best local products and presenting them to our guests."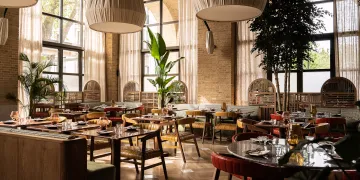 The restaurant interior was designed to encapsulate the warmth of Barcelona with natural materials, warm tones, and an abundance of plants. The open kitchen embodies the communal spirit, focusing on the finest local produce presented with integrity.
The Campaner's London location shares the tranquil, remote ambience of The Martinez, offering an escape from the city's hustle and bustle. As Mar puts it: "The location of the Campaner in London is similar to Martinez's in Barcelona, as both are situated in quiet locations, a peaceful escape from the city's noise. And yet, so easily accessible - Sloane Square, is just an 8-minute walk from here, to this place, where you find tranquillity."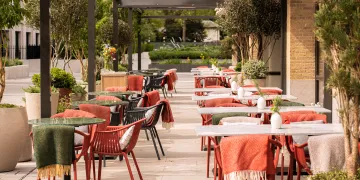 What sets The Campaner apart in London's vibrant culinary scene is its steadfast commitment to honest, genuine cuisine. Mar and her team take immense pride in curating dishes that showcase organic and locally sourced ingredients, with a special focus on exceptional meat quality and locally sourced eggs and milk.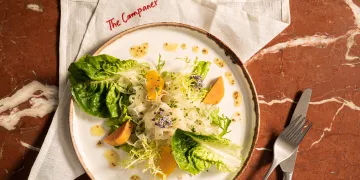 The Campaner menu is a fusion of signature dishes. From paellas to the remarkable lobster casserole, Mar's culinary creations tantalise the palate. As she shares, "I really love food so I can't choose a favourite dish. Today is a tortilla, but maybe tomorrow I want to fish in the Josper oven."
Craft cocktails are a cherished feature at "The Clandestine". Mar's personal favourite, the Pineapple Mezcal Margarita, is a testament to the bartenders' skill. The classic Bloody Mary graces the menu with its exceptional flavour. The Campaner's newly opened bar, the experience is tailored to your individual preferences, as Mar emphasises, "I ask the guests what they'd like to try on that particular day.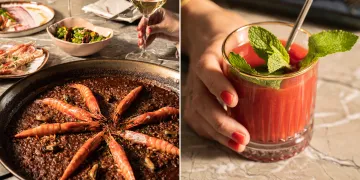 This recent addition, 'The Clandesti,' offers an exclusive speakeasy-inspired experience that offers a glimpse into a world of secret bars from a bygone era, a truly unique and captivating bar experience. As Mar shares, "The inspiration for 'The Clandesti' came from the speakeasy period."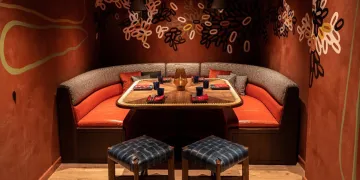 For Mar every visitor, irrespective of their background, is cherished. Her authenticity is the foundation of her success, highlighting that staying true to oneself is the path to excellence, as she encourages, "Every visitor is essential, and I want them all to feel equally important."
When it comes to Chelsea Barracks, there's something special about this location and building that captivated Mar. She ponders, "This location is a peaceful place, its neighbourly, while still being close to the city. I love my solitude, but I also want the community and being near the city so I can just walk there. Chelsea Barracks has a sense of community"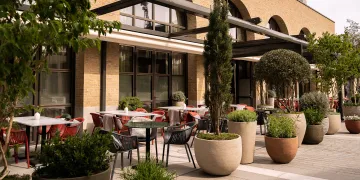 Mar warmly extends an invitation to join her on this remarkable culinary journey that she has passionately crafted. In the spirit of a welcoming home, there is no pretence here – just authenticity. She concludes: "When you invite someone into your home, you don't pretend to be anyone else but yourself. We've poured a lot of energy and hard work into this project, and if you want a unique and different dining experience, come visit The Campaner."