There are certain moments in life where the opportunity arises to make history and carve a legacy.  In Chelsea Barracks a team of peerless architects, landscape architects, designers, and master-planners, have come together to deliver an entirely new neighbourhood in London. On the scale of grand estate, Chelsea Barracks is large enough to restore the relationship between domestic architecture and the larger plan of the city; the first development of its type for over 100 years, and likely the last. Together this extraordinary ensemble of people, in conjunction with Qatari Diar, have reintroduced 12.8 acres of isolated land masterfully into existing Belgravia, erasing the boundary of the barracks and creating a new legacy for London, one that will do justice to the prestigious surrounds of this iconic Estate.
Chelsea Barracks reimages Georgian architecture for a contemporary age, on a scale that influences the entire surrounding area. A huge responsibility, these designs are intended to stand the test of time, expressing a new architectural language as graceful and resonant of the location as the distinguished architectural ancestors that surround.
The introduction of seven new garden squares marks a significant revival as this great innovation of English architecture which has lain dormant in its own home. These garden squares will redress the balance, with over five acres of green space in the heart of London.
Over a decade in the making, Chelsea Barracks will now become home to its first residents, who will build their own legacies amongst the magnificent garden squares. Here we meet with the incredible talents that have collaborated over the past ten years to deliver Chelsea Barracks and ask about their personal legacy at this extraordinary development.
Legacy is wide-ranging and all inclusive, we all leave something behind, whether big or small, simple or extraordinary. What do you believe, or hope, will be your legacy at Chelsea Barracks?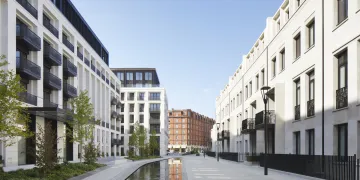 "I believe our legacy at Chelsea Barracks will be the creation of a new piece of London rooted in the local urban fabric.

Michael Squire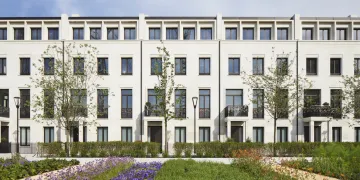 I hope we've created a building that feels timeless, which will weather beautifully and provide an ongoing sense of vibrancy.

Ben Pentreath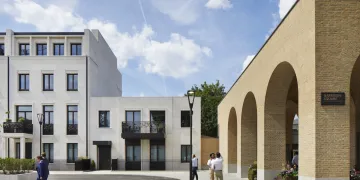 Our legacy is a timeless design that respects the charm and history of Chelsea Barracks, while providing an elegant update.

Martin Goddard & Jo Littlefair
To read the personal legacies of each member of this incredible ensemble cast, download the 'Legacy' Barracks Book available in the Media section of the website HERE.