In an age where remote working has become the new norm, an effective and comfortable home study has transformed from a practical necessity into a reflection of one's lifestyle and taste. For those seeking to blend sophistication into their workspaces, creating a home study that exudes both efficiency and elegance is paramount. Our guide on the essential accessories will aid you in elevating your home study to a greater realm of luxury and refinement.
Statement Desk
A desk goes beyond being part of the furniture. A well-chosen desk serves as the heart of a study, offering both practical and aesthetic appeal. 
Regarding functionality, your desk provides a dedicated workspace that encourages you to organise materials and concentrate on tasks, fostering an environment conducive to learning and productivity. Simultaneously, a thoughtfully selected desk contributes significantly to the overall ambiance, acting as a focal point that complements the room's decor, imparting an air of sophistication and taste.
The right desk, though, is so much more than a place to work but rather a statement of intent. The Wellington Desk by Albion Nord, for example, takes inspiration from the campaign desks of the military, commanding both attention and prestige.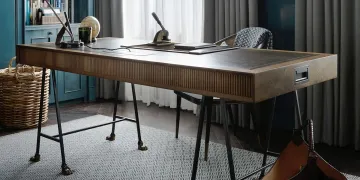 Chairs and Seating
Accompany your desk with a suitable and sophisticated chair. Finding the balance between efficiency, comfort and elegance is vital as it is a cornerstone of any successful working environment. Seating in your study does not need to begin and end with your desk chair, however. An executive style chair to work on can be supplemented with a more relaxed armchair for reading or to receive guests in informal meetings.
Opt for seating that exudes both luxury and ergonomic support. The renowned designs of Eames or Giorgetti can elevate your working experience to a new level of comfort and refinement. The chair is not just a place to sit; it is an extension of your status and style.
Lighting Fixtures
Your choice of lighting fixtures should align with your personal style and the overall aesthetics of your study. Statement ceiling light fixtures such as those from Sharon Marston or Ochre can act as a captivating focal point but if you prefer simplicity and a more intimate, relaxed environment, the desk or floor lamps from Lee Broom can illuminate everything needed without being obtrusive. 
As with all elements, your lighting should be able to adapt to your needs. Smart lights give you control over brightness, temperature and colour all from your phone or tablet. They can be programmed to sync with your daily schedule, mimicking natural daylight patterns if you are working long into the evening and can be a useful accompaniment for backdrops of video calls. 
Bespoke Shelving and Storage
Shelving and cabinets serve as unsung heroes of organisation and aesthetics. Bespoke cabinets not only keep your office essentials neatly organised but also serve as striking design elements that contribute to the overall sophistication of your home study.
Chelsea is home to a number of joinery experts, all producing cabinets and storage solutions fit for any environment. Langstaff Ellis, for example, look at more contemporary designs that both accent and blend into the setting of each room. Bretz, however, focus more on the decorative and ornate appearance for shelving and storage. Whichever direction you take your study, there are an abundance of options for both regardless of if your priority is form or function.
A sophisticated home study is more than just a place to work; it is an extension of your personality and motivation. By carefully selecting bespoke study accessories, you create a workspace that is both productive and a testament to your appreciation of life's finer things. Each accessory contributes to an environment that fosters creativity and productivity while enveloping you in an atmosphere of luxury and refinement, making your home study truly exceptional.