Since launching her studio in 1997, Sharon Marston has become a pioneer in the decorative lighting industry, designing bespoke pieces for royalty, exhibitions, catwalks and hotels around the world. We meet the creator of these ethereal masterpieces, two of which will hang in the spa at Chelsea Barracks.
We're sitting on the third floor of a warehouse on a leafy street in West Dulwich. With windows looking out across London, the place is flooded with crisp October light. The view is majestic and, up here – in what has been Sharon Marston's studio and showroom for 15 years – we feel a million miles away from the bustle below.But, it is what's inside the room that we're here to talk about. Looking around, it's easy to see why Sharon's work has gained such a prestigious reputation and client list – from royalty and the art world, to global brands, hotels and private residences. Hanging from the ceiling and adorning the walls are an illuminated array of highly intricate, exquisite creations, each one unique, yet with a distinctive style woven throughout.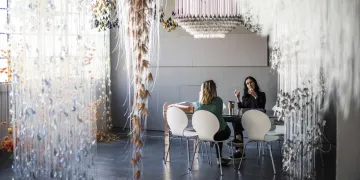 Ethereal, elegant, glamorous. Sharon tells us these are all words that have been used to describe her work. "I think people can recognise the intricacy and artisan skill that is involved in creating my pieces and there's a real value in that." Yet despite the level of detail and craftsmanship that goes into each one, her work retains an organic feel. Sharon's pieces wouldn't look out of place in an enchanted wood, and we're interested to know what inspires her. "I grew up in the countryside and I've always been drawn to landscapes," she reflects. "There is definitely a floral element to a lot of my work – and many are named after flowers." Indeed, the chandeliers she has created for Chelsea Barracks are called Willow. I turn to look at one of the two that that formed part of the inspiration for the one that will hang in the spa reception, its shapes cascading like the branches of its eponymous tree. But, instead of leaves, there are over 800 hand-folded, woven bronze flowers stitched together with fibre optics. More on that later.
First, we want to know how Sharon found herself at the forefront of a decorative niche in the lighting industry. "My company has been running for twenty years, but before that I had quite a mixture of jobs," she explains. Her journey started at Middlesex University, where Sharon studied jewellery design: "it was a very conceptual mixed media course and my tutor, Caroline Broadhead, was part of the movement in the 1970s taking jewellery away from traditional forms, and instead using it as a fine art that adorns the body." It was here that Sharon found herself drawn to this more sculptural side of jewellery that scoped theatre and fashion. "During an internship year, I went to work for some theatre companies, where I was manipulating material and sewing."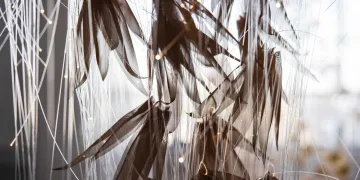 It seems the seed was planted for her future body of work at Regent's Park Open-Air Theatre. While working there one summer, Sharon was introduced to woven nylon – a material she still uses in her lighting designs. "I was fascinated with the way you could draw with a material and create shapes. I started making sculptural pieces for the body and went on to work at the International Opera and for contemporary dance companies. But it wasn't until I worked for the designer Bella Freud, making garments for the catwalk, that I started making my own collections of handbags - some of which were commissioned for catwalk shows."So how did she make the transition from fashion to light design? "It actually happened by accident," Sharon explains. "I was photographing costume wear one day and I noticed the material was so beautifully illuminated from behind. I had a real moment of recognising the potential in lighting fabric." It was a turning point for Sharon, who went one to create her own lampshade collection. Soon she was being showcased in Liberty London and had set up a small studio in Clink Street, London Bridge: "it was just me and my industrial sewing machine!"
Sharon's work – and team – has grown beyond hand-making lampshades in her studio. Today her majestic light pieces sit in residences and hotels around the world, and have featured in renowned galleries and museums, such as the V&A's first ever contemporary light exhibition in 2004. "The scale has changed but there are still many elements of my earlier work in what I do today," she says. "That's what I love about it – being able to bring in the different disciplines from across my career under one roof. It's very creatively fulfilling."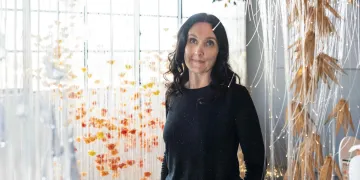 Has the industry itself evolved over the years too? "Well, there wasn't much of an industry when I started. Lighting was mainly functional," Sharon reflects. "I remember talking to architects and they would always say that decorative lighting was the first thing to be cut from a budget. But now there is much more of an appreciation for the craftsmanship that goes into making my pieces." So what exactly does that process entail? "There are many stages and I'm still very involved in them all to this day. I like to visit the artisans I work with, who are small cottage industries dotted around the UK – from the glassblowers and potters who make our bone china, to the metal engineers. I will visit the workshops and they'll explain the process so then I can understand what's achievable, and weave that into my design. I'll often take shapes along, as well as sketches." Indeed, maintaining strong working relationships with the best artisans is central to Sharon's work. "It's at the heart of what I do," she explains. "I've been working with many of my suppliers for 15-20 years. There is a real respect for the work they do and they respect what I do too. Every project brings its own challenges, but it's a real collaboration. I think it's so important to build up a trust there."
This championing of British craftsmanship makes Sharon's work a perfect fit with Chelsea Barracks. For Sharon, creating the chandeliers for the spa was a real privilege. "There's such heritage there and to be able to be involved in its new chapter is very special." That said, producing the Willow chandeliers was by no means a straightforward task. "It was a labour-intensive process. There's almost 2000 pieces spread across both chandeliers, and it took four weeks to make up the shapes and a further few weeks on each sculpting and building it – from threading the fibres through the metalwork to creating the body." Just looking at the chandeliers, the attention to detail is obvious, particularly with the woven bronze flowers. "They were all done by eye. It came in a roll and we cut and folded each piece. The fibre optics – of which there are 1000 – were then hand-measured and woven in. Everybody who worked on this has a degree or creative craft design background, because there's a lot of decision work involved in placing and crafting the shape."
It's clear that Sharon's pieces are so much more than 'lighting'. They are works of art: illuminated sculptures that go beyond function and exist instead to create ambience, mood and beauty in any given space. It's this intersection between art, sculpture, architecture and craft that keeps Sharon interested: "For me," she explains, "it's about the potential to weave together different materials, crafts and skills to create one beautiful thing."