London is known for its vibrant nightlife and stunning cityscape, boasting an array of rooftop bars offering an exceptional experience accompanied by breathtaking views. Whether you are a discerning local or a visitor seeking a memorable evening, these rooftop bars are a must, guaranteed to delight even the most sophisticated palates.
Sky Lounge at The Shard
Sky Lounge on level 34 of The Shard offers an experience to remember. The extensive selection of fine wines, handcrafted cocktails and panoramic views of the City, create an atmosphere of elegance and indulgence. Enjoy the culinary creations while gazing upon the glittering lights of London's skyline. Heading west from Chelsea Barracks, the Jubilee line from Westminster will place you at the foot of London's tallest building, where the opulent Sky Lounge waits at the summit.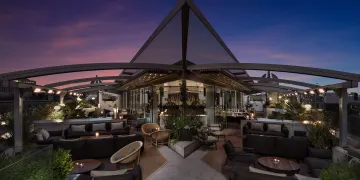 Radio Rooftop Bar
Situated atop the boutique ME London hotel, Radio Rooftop Bar presents an exclusive experience in the heart of the city. With its sleek design, stylish furnishings and a terrace all but designed for watching the sun set, this hotspot provides glamour and a stylish ambiance. From the doorstep of the Chelsea Barracks estate, Radio Rooftop Bar can be found on the other side of St James's Park. Signature cocktails meticulously crafted by expert mixologists are best enjoyed looking across the River Thames, amongst renowned landmarks such as Somerset House and St Paul's Cathedral.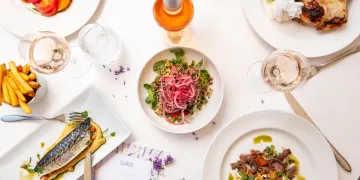 Coq d'Argent
With its impeccable French cuisine, Coq d'Argent is a rooftop bar and restaurant that embodies elegance and sophistication. Sitting on top of No 1 Poultry, its expansive terrace provides a picturesque view of some of London's most recognisable landmarks. Indulge in a culinary journey crafted by talented chefs, offering an exquisite blend of classic and contemporary French flavours.
Madison
One District line tube from Sloane Square to Mansion House takes you to one of London's premier shopping destinations, One New Change. Bar options here are by no means sparse but Madison is one to stand out. An elegant rooftop bar that captivates visitors with its stunning views of St. Paul's Cathedral and the surrounding skyline, the stylish interior, with ample seating and sophisticated decor, sets the stage for an unforgettable evening. Enjoy an extensive selection of champagne, fine wines and unique cocktails, complemented by a menu featuring modern British cuisine.
Aqua Kyoto
Aqua Kyoto entices Soho patrons to authentic Japanese cuisine and a remarkable rooftop terrace. Set on the roof of one of London's historic Portland Stone buildings, Aqua Kyoto seamlessly blends a staple of British architecture with authentic, contemporary Japanese cuisine. The atmosphere combines urban charm with tranquillity; intimate lighting and greenery provide a welcome departure from the bustle of Oxford Street below. Snacks and larger dishes are available, made with ingredients native to Japan, with the tempura prawns with wasabi salt a common favourite.
These venues effortlessly combine luxurious settings, flavourful cuisine and breathtaking views, making them some of the best rooftop bars in London and the ideal setting for a perfect summer evening.