It's like a conjurer. It's like a spell. It's a completely magical experience

Sally Marien
There's a touch of magic about Sally's story too. 'I think it really started when I was five, in kindergarten,' she explains when we meet at her West Sussex studio. 'I just loved it, it left a mark on me.' Fast-forward thirteen years, and Sally was packing her bags for South London's Goldsmiths College. Though the plan was for her to take a teacher-training course – Sally's parents were none too keen on the idea of art school – pottery was not so easily shaken off. 'I spent hours and hours and hours in the pottery, and developed a real passion for it. I had a friend who was at medical school with my husband who built me a wheel, so I had a wheel in my flat from when I was about 18.'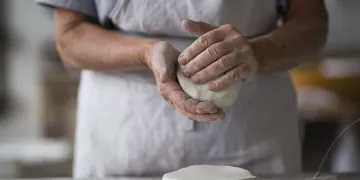 Ever since, pottery has been a cornerstone of Sally's life. She's made sculptural work and ceramic jewelry, run a gallery that brought together 'all sorts of eclectic different makers' and thrown with several different types of clay. Now, she specialises in tableware: when it was time for Albion Nord to choose a maker for the Chelsea Barracks collection, Sally's commitment to her craft made her a clear and obvious choice.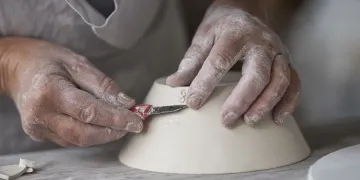 Albion Nord decided that the collection – which includes dinner plates, side plates, cereal bowls, soup bowls and mugs – should be made from porcelain, since the first English porcelain was produced in Chelsea.  As such, the tableware draws on heritage, not only of the Barracks, but of the very area itself. Yet the choice was rooted in more than mere nostalgia. As Sally explains, 'Porcelain is just the perfect kind of clay for the project. It gives a sort of freshness, and it has a wonderful touch. I feel it sings, especially in the sunshine. It's a wonderful piece of pottery to hold, and to feel, and to eat off.'
Once porcelain was picked as the ideal material, it was time to create the Chelsea Barracks stamp – which Sally had to make in reverse, so that it could be imprinted onto the clay. Only then could she begin individually handcrafting every item of tableware. It's no simple task: for each piece the clay must be wedged, spun on the centre of the wheel, then pulled, dried and turned – before it can be fired, glazed and refired. Each firing alone takes two days, with the kiln heated to temperatures north of 1000°c over several hours.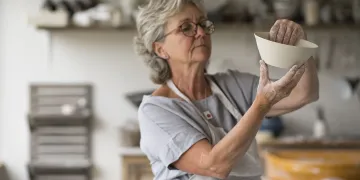 The relish with which Sally approached such a painstaking process reflects her unwavering passion. 'The handmade process is one of the most exciting parts of making pottery, she explains.  'I love working on the wheel – the fact that you start with a lump of almost mud, and within a few seconds it turns almost magically. But I also love handbuilding, the putting together of some shape and form and scraping away. I love that scraping to make it smooth. And the way the clay is so malleable – it's easy to form anything you like. It's just the most magic stuff.'