Marcus Wareing's flagship restaurant Marcus is found between Hyde Park Corner and Knightsbridge tube station, a twenty-five minute walk from Chelsea Barracks' front door. With a near total renovation in 2014, the restaurant is embracing the future of fine dining while still acknowledging the time-honoured traditions of classic cooking.
Despite the 2014 renovation, Marcus has remained consistent since the doors first opened in 2008. Marcus was awarded its first Michelin star one year after opening and has retained that status ever since. In addition, it has received a number of other accolades, including multiple Restaurant of the Year nods, as well as being named as one of London's seven restaurants with five AA Rosettes.
Marcus and Chelsea Barracks share a belief in simplicity. The chefs at Marcus aim to elevate each dish in such a way as to not overcomplicate or overwhelm the ingredients, with elements added layer by layer. The menus are a perfect example of what has made Wareing a household name among the dining culture in London.
As with Chelsea Barracks' stunning garden squares, Wareing's other prominent love is horticulture and this is echoed throughout the menus at Marcus. The use of foliage and other fresh greenery stand out in signature dishes such as the Devonshire duck, nettles, lettuce and bacon. Spring and summer diners can expect to see fresh English peas across the menu, though the current star is a Cuore del Vesuvio tomato with roasted tomato jam, served with chargrilled garlic scapes and baby onions.
Not one to shy away from innovation, Marcus chefs employ a range of cooking techniques in their efforts to provide diners with a memorable experience. Across each menu, you can expect dishes prepared using sous vide cookery, dehydration, smoking and even utilising liquid nitrogen in the pastry menu. The experience of Marcus does not begin when the food is served but how it is prepared remains of paramount interest to the restaurant. The chefs always look to strike a balance between letting the ingredients shine and getting the most out of their flavours by adopting these distinctive techniques.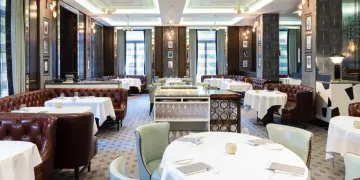 Chelsea Barracks have built a development with an ethos of honouring the heritage of London and the UK while still looking to the future, a principle shared by Marcus. A contemporary European restaurant, the menu regularly evolves in ways to pay tribute to classic cooking without becoming stale. While some things will always remain, the energy, excitement and evolution of the food is mirrored in the staff. Both Head Chef Craig Johnston and Senior Sous Chef Jack Hazell are under 30, while Wareing himself was awarded the Restaurant Association's Young Chef of the Year in 1995.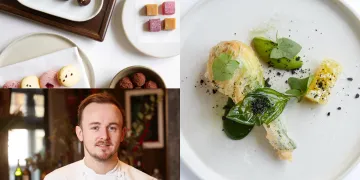 Emily Jacobs, Marketing Manager at Marcus said of the chefs, '[they] all want to carve out their own distinctive style, so [they] are always going to look for ways to improve, add on or enhance existing ideas.' 
Marcus is a restaurant that brings you classic fine dining with a contemporary approach. Ingredients sourced from the UK and an extensive wine list, there is no occasion that Marcus is not suited for. Business lunches are best served with the lunch menu which gives a comprehensive introduction as to what Marcus does best. With three additional menus, vegetarian options and wines from across France, Germany and Greece, it is a must for Belgravia residents.