The Chelsea Barracks Townhouses are a completely bespoke and unique offering to London, sensitively adapting the architectural principles of the Georgian period for a contemporary age. Each one proposing a spa - with a 12m pool complemented with in-house treatment rooms - cinema room, garden, roof terrace, private garage, passenger and service lifts, reception rooms, study and 7 bedrooms; the epitome of luxury super-prime residential living.
Interior design studio Albion Nord were chosen and entrusted with dressing two of the townhouses, one on whistler square and another on mulberry square. Appointed for their love and appreciation of architecturally rich houses and their ability to incorporate antiques and classic British and European styles, the quartet of founders set to work. What has been delivered at Chelsea Barracks is something refined and understated and at the same time, quite extraordinary.
We met with one of the four founders, interior designer Ben Johnson, to discuss the inception of the studio, Chelsea Barracks and his personal approach.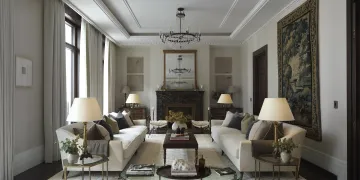 TELL US ABOUT THE JOURNEY OF ALBION NORD? HOW DID IT COME TO BE? 
Myself, Anthony, Camillia and Ottalie all met professionally designing properties for a private developer. like minds and joint ambition meant forming Albion Nord together felt like a very natural step. Our complimenting skill sets enabled us to set the studio up and win commissions as a four before steadily growing the business.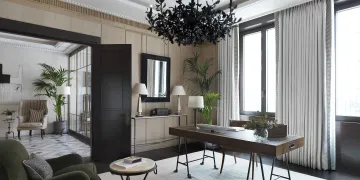 WHAT IS YOUR ETHOS AS A STUDIO AND HOW WOULD YOU DESCRIBE YOUR STYLE? 
We were keen for Albion Nord to be the antidote to our collective experience of other design studios in terms of how we worked and studio culture. Albion Nord is very much a family. the studio of 14 have varying skills and experience which means we work very collaboratively within projects. our approach is the same whether designing piece of furniture or a 30,000 sqft property - craft and character is at the heart of it.  
I would describe our 'style' is refined, understated, sympathetic, warm, comfortable.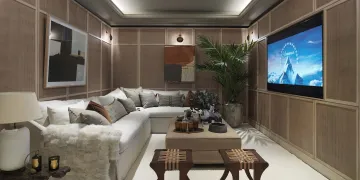 CAN YOU TELL US ABOUT THE PROCESS OF APPROACHING NEW BUILD VERSUS OLD HOUSES? 
I would like to think our design process is the same when approaching an old or new property and there is no hard and fast rule!  
I guess with a new property we will try to inject material texture, warmth, and character through contemporary design - it will always be sympathetic and honest to the architecture of the building. we will always be eclectic with how we dress properties; antiques and vintage work in contemporary environments and vice versa, this help builds character across our design/projects.  
Contemporary design also works in classical interiors, we just make sure that the two languages are separate when they come together, when this happens there's an integrity/honesty to the design.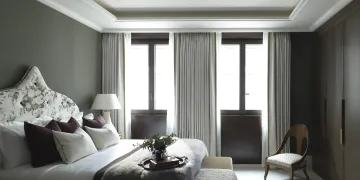 DO YOU HAVE ANY "GO-TOS" WHEN DESIGNING? ANY "STAY-AWAYS"? 
Go-to's:
natural materials 
simple detailing 
Stay-aways:
over detailing
shiny stuff 
unnecessary leather 
purple 
All images are of 2 Whistler Square