In Wes Anderson's 2014 cult masterpiece The Grand Budapest Hotel, there is a scene in which concierge Gustave H. and his dutiful bellhop Zero Moustafa find themselves squeezed into a phone booth, making a very important call. "How does one come by front-row aisle seats for a first night at the Opera Toscana with one day's notice?" Gustav H. calmly asks. "How does one arrange a private viewing of the tapestry collection at the Royal Saxon Gallery? How does one secure a corner table at Chez Dominique on a Thursday?
The answer of course is in the membership of the "Occulta Claves Decussatae Societatis," otherwise known as the Society of the Crossed Keys, a secret organisation of the world's finest hotel concierges. Anderson was actually inspired by a real-life organisation of said concierges, known since 1970 as Les Clefs d'Or. The history of the concierge is a relatively short one. It wasn't until the rise of leisure tourism in the late 1800s that some perspicacious Swiss chaps noticed a gap in the market for assisting the 'grand-touring' European elite with hard-to-come-by local knowledge and knowhow. From there, the concierge's role has evolved to become the unflappable chief facilitator of guests' wishes, from the practical to the fanciful and the occasionally outrageous (Raphael Pallais, chief concierge at New York's Plaza Hotel and member of Les Clefs d'Or once had to seek out live tarantulas for a guest who wished to roast them for his dinner!).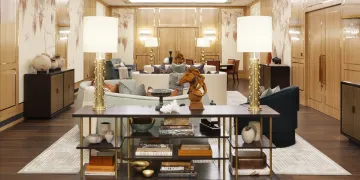 At Chelsea Barracks, residents can rightly think of the Garrison Club as their very own Society of Crossed Keys, able to facilitate any and all requests just as one would expect from the concierge of one of the world's finest hotels. The Garrison Club's modus operandi is quite simple - to ensure that residents and their guests enjoy a highly personalised and bespoke living experience. They deal in the most valuable commodity in the world, that of time, shouldering the burden of bookings, reservations, shopping and dining requests and myriad other time-consuming tasks and chores, so that residents can make full unadulterated use of their precious time at Chelsea Barracks (and how many ways to spend said time!)
Which leads me neatly on to the world-class luxury amenities at Chelsea Barracks. For those looking to unwind, the palatial spa is a subterranean Aladdin's cave of bespoke wellness, peace and tranquility, accessible from all of the residences so that guests never need to step foot outside. From the stunning lobby featuring a woven feather and fibre optic chandelier by East London-based artist Sharon Marston, guests can choose to be pampered from an extensive menu of Elemis spa treatments ranging from peptide facials to body scrubs, wraps and massage, or can of course arrange for their favourite masseuse and/or treatment expert to tend to them in one of the private rooms. Further inside, the stunning white marble and gold detail spa area features a light-reactive 20m pool, male and female experience showers, steam rooms and saunas, a tepidarium, together with wet and dry relaxation areas and vitality pools, all suffused in a calming ambient light. For residents who require a less horizontal approach to wellness, the extensive gymnasium is fully stocked with the very latest TechnoGym equipment, while there is also a private training room should guests prefer to recruit the additional motivation and expertise of a personal trainer (the concierge has excellent relationships with many of London's most reputable private trainers and fitness experts).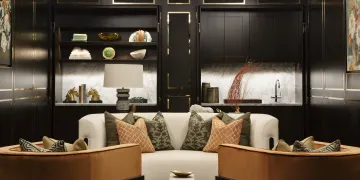 For residents wanting to entertain friends and family or simply relax wearing something other than a bathrobe, the function room is a resplendent oasis of considered luxury and chic design, and is the perfect area to welcome guests to your home. Featuring an antique mirrored ceiling, the room is beautifully encased with oak panels inset with bronze, and framed wisteria-patterned wall coverings. The interior perfectly marries antique ornaments and objets d'art with contemporary furniture sprinkled with tasteful art deco influences. One need only ask the concierge services should one require the room for a private function. Catering can of course be provided with up to 72 hours notice, with carefully curated mouthwatering seasonal menus, of which many of the ingredients have been sourced from the outstanding Daylesford organic farm in Gloucestershire. It's the Garrison Club's aim to bring residents the experience of fine dining into their homes at any hour of the day, whether that be sumptuous canapes for a drinks reception or a more formal three-course dinner in the private dining room.
A more laid-back evening, literally speaking, can be had in the 16-seat cinema room. Featuring plush forest green seats with oversized footstools for reclining on, together with state of the art sound and vision technology, it is ideal for those who want a cinema experience in the comfort and privacy of their own home. The concierge can of course be relied upon to supply the popcorn (the only question is salted caramel, classic caramel, chili caramel, caramel and almond, peanut butter and chocolate, white chocolate and raspberry, caramel and Belgian chocolate or caramel, coconut and cinnamon?!).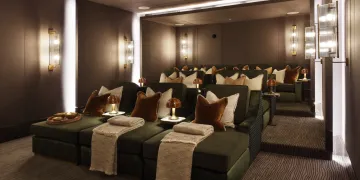 The games room is the ultimate den to which to retire to after dinner, not least because of its classic billiard table and bespoke traditional luminaire, but also because of a remarkable lockable cabinet in which residents can store their personal drinks collections. The rich black walnut and bronze walls and chequered timber floor make for the perfect environment to wind down or chat over a tipple of your preferred persuasion. Similarly, the residents' lounge is a discreet area that evokes the private members' clubs of old, combining panelled walls finished with American black walnut and inlaid bronze trim. The decor is inspired by the heritage of Savile Row, invoking an air of sophisticated repose, making it the perfect place to begin your day with a coffee and the newspapers. The lounge is flanked on either side by two fully equipped, 12-seater boardrooms should business necessitate an interlude from the other relaxing amenities on offer. From here, all your business requirements can be met by the concierge team who are always on hand to deliver a tailored service.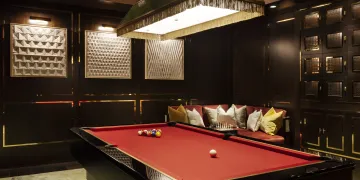 Therein lies the most important aspect of the Garrison Club - a bespoke approach to each and every one of the Chelsea Barracks' residents. With every interaction, the highly trained team will learn individual guest's preferences so that their time at Chelsea Barracks is as seamless as possible. Like all good world-class concierges, it is a service built on trust, allowing guests to rest assured that their requests are dealt with in the most private and discreet manner. Even if that means a bag of spiders for supper.
By Ryan Thompson