Walk twenty minutes from Chelsea Barracks and you will find yourself on the doorstep of one of Europe's most celebrated Chinese restaurants. Andrew Wong's eponymous A. Wong opened in 2012 and has since made a name for itself with a focus on variety, tradition and authenticity.
The phrase "Chinese cuisine" can sometimes struggle to fully capture the complexities and the storied history of one of the most diverse cultures in the world. What A. Wong offer their diners is Chinese cuisine that is rich in flavour, diversity and, maybe the most important, tradition. Michelin Guide has described the "Taste of China" menu at A. Wong as "a culinary voyage around the country" and speaking with chef and owner of the Victoria restaurant Andrew Wong, it is clear that this has been his vision since before the restaurant launched.
"Chinese cuisine is much more diverse than many people realise and that is what I want to show people through my menus". The inspiration behind each aspect of the food at A. Wong comes from the rich history of China as a whole, meaning that the flavours found at the restaurant are by no means limited to one region but instead encompass the Chinese culture as a whole.
A. Wong has always been eager to incorporate as many elements from the long-established techniques of Chinese cooking as possible while still inventing within tradition. Their approach to cooking firmly embraces other cultures not just in flavour but in technique, building on a cuisine that has been so fondly enjoyed for over four thousand years.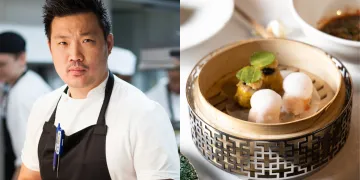 The evolution of Chinese cuisine has helped it become such a favourite but it is the strong sense of tradition that has kept it as such a popular choice for diners around the world. As with the architecture throughout the Chelsea Barracks development, Wong's cooking has been described as having one foot placed in the future and the other inspired by the past. This balance is found in every dish at the contemporary A. Wong.
The restaurant boasts a number of prestigious awards including multiple Chef of the Year wins at the National Restaurant Awards and Cateys, as well as having been awarded two stars in Michelin. The restaurant truly is a celebration of China as a whole, far away from being closed off from the fourteen bordering countries.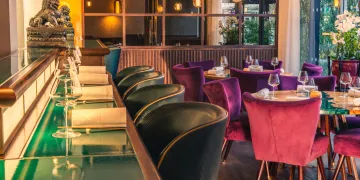 At Chelsea Barracks, we have long endeavoured to embrace and appreciate a wide range of styles and influences through our development and architecture. This idea of embracing and appreciating is not only echoed at A. Wong but strongly encouraged for all diners. It is crucial to enjoy multiple dishes at once at the restaurant in order to have as immersive an experience as possible. The stand-out items on the menu are, naturally, favourites from the Chinese heritage. The Soy Chicken and Cantonese crispy pork belly are staples for good reason: they are a gateway to the rich culture and heritage of China and remain important features of Chinese cuisine after all this time.
A. Wong is a contemporary Chinese restaurant that presents original takes on much-loved dishes. With four separate menus, bar and private dining, the restaurant continues to be a favourite among local residents and those looking for first-rate dining in London.