Belgravia is one of London's most exquisite neighbourhoods. Adorned with elegant architecture and boasting a vibrant cultural scene, Belgravia captures the essence of London's history and future. Let us take you through the captivating past, explore what has made Belgravia such a significant area and highlight some of the best places to visit in the present day.
Belgravia as we know it today can be traced back to the early 19th century when it was developed by renowned architect Thomas Cubitt. Named after the Viscount Belgrave, it was designed to be an upscale residential area, characterised by grand terraces, stucco-fronted houses and pristine garden squares. This elegant design still defines the neighbourhood's character today, making Belgravia one of the most sought after and exclusive parts of London.
Belgravia has been home to some of history's most influential figures. A walk through the streets will reveal countless English Heritage plaques, commemorating many of the names of people who lived or worked in the area. Among them, Ian Fleming, Dr Samuel Johnson, as well as, Wolfgang Amadeus Mozart who composed his first symphony at 180 Ebury Street in 1764. The prestigious reputation the neighbourhood has garnered continued to attract celebrities, aristocrats and dignitaries over the years.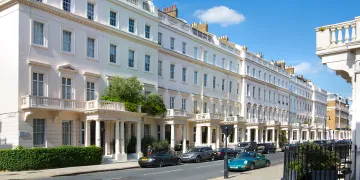 Belgravia has long been a symbol of sophistication and elegance within London. Its architectural splendour and cultural prominence have made it a favourite setting for films, television shows, and novels, most notably in the work of Anthony Trollope whose novels Phineas Finn, The Way We Live Now and The Duke's Children all paint a vivid picture of the neighbourhood in the 19th century. The neighbourhood's charm and allure have been celebrated in various art forms, solidifying its status as a significant cultural landmark in the city.
One of the grand garden squares that grace the neighbourhood, Belgrave Square, offers a tranquil oasis amidst the bustling city. The well-manicured lawns and beautiful statues make it an ideal spot for a leisurely stroll. Eaton Square is similarly known for its captivating scenery and is the perfect setting to enjoy a peaceful afternoon.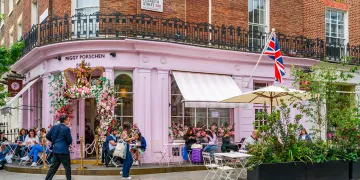 Now known for its retail opportunities, keen shoppers and diners will be enchanted by Elizabeth Street offering an array of upscale shops, restaurants and cafes, providing an excellent shopping and dining experience.
Belgravia stands as a testament to London's historic legacy and vibrant present. Its architectural beauty, illustrious past residents and cultural significance make it a must-visit destination for anyone exploring the city. As you wander through its elegant streets, soak in the timeless charm that defines Belgravia and be captivated by the essence of London's finest neighbourhood. Whether you are a history enthusiast, an art lover or simply looking for a peaceful and beautiful walking spot, Belgravia will undoubtedly leave a lasting impression on your heart.