We are delighted to announce the opening of the Chelsea Barracks Kitchen by Ollie Dabbous at Garrison Square, open for one week only, to coincide with the RHS Chelsea Flower Show 2019.
FOR ONE WEEK ONLY
21st May - 25th May
In celebration of the opening of the first two gardens at Chelsea Barracks; Mulberry Square and Bourne Walk, the Chelsea Barracks Kitchen 'pop-up' will run from the 21st May - 25th May.
As part of the grand opening of the first Garden Squares, Landscape architect Neil Porter and eminent garden designer Jo Thompson, have teamed up to create a floral array, to bring them magnificently to life.
Opening in May 2019, it will be the first time in over 150 years this coveted site will be open to the public and promises to be a visual feast for passers-by to revel in.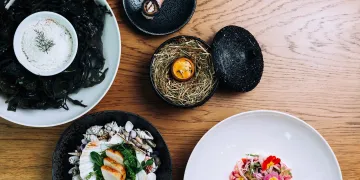 The Chef
ABOUT OLLIE DABBOUS
Ollie Dabbous opened his first restaurant Dabbous in 2012 to unprecedented critical acclaim. It fast became one of London's busiest restaurants.   
He released his cookbook two years later, and maintained the Michelin star until he closed in 2017 in order to open Hide in 2018, where he now also has a Michelin star. His botanical inspired menu perfectly compliments Chelsea Barracks and the Flower show.
"I'm passionate about food and seasonality. Spring brings with it wonderful fresh botanical produce, making it my favourite time of the year for cooking". 

Ollie Dabbous