This week, Chelsea Barracks opened to the public for the first time in 150 years to unveil the first two of seven Garden Squares.
The Chelsea Barracks Gardens
THE GRAND REVEAL
Chelsea Barracks has been the most highly anticipated new development of recent years. Out of reach for over 150 years, the site opened for the first time to the public this week.  
Two of the seven Chelsea Barracks garden squares – Mulberry Square and Bourne Walk –  have been revealed, aptly coinciding with the historic Chelsea Flower Show. 
To mark the occasion, landscape architect Neil Porter of Gustafson Porter & Bowman, tasked with the permanent planting strategy for Chelsea Barracks, has worked with four-time RHS Chelsea gold medal winner Jo Thompson to create two floral spectaculars.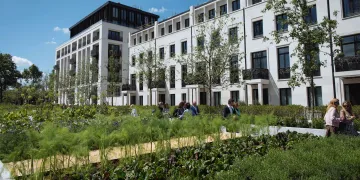 The Gateway
MULBERRY SQUARE
Mulberry Square, inspired by the bright, striped paintings of London artist Bridget Riley and England's grand country estates, extends over 100m long, and is planted with herbs and flowers that can be used for cooking. It forms the gateway to, and the main thoroughfare through, the Chelsea Barracks estate.
Jo Thomspon, who has been involved intermittently with the project since creating the gold medal winning Chelsea Barracks garden at the 2016 Chelsea Flower Show, said of the garden:
"We incorporated evergreen hedging to break up the expansive length of Mulberry Square, and then herbs, planting, vegetables and flowers have been entwined to create an artistic patchwork. It's great to be involved in the Chelsea Flower Show, but it's equally special to have the opportunity to help make a more permanent mark on the landscape in a location seen as the heart of the horticultural world'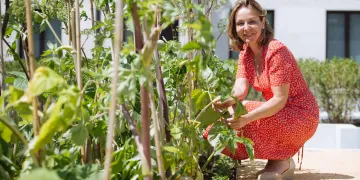 The Wildlife Corridor
BOURNE WALK
The second garden square, Bourne Walk, running along the border of Chelsea Bridge Road, has been planted with established trees and native flora to encourage wildlife to the area.
'What's particularly exciting about the gardens at Chelsea Barracks is that, the way they have been designed means there is a variance of colours and smells at each different point of the year, as the seasons change,' said Porter. 'From day one, the gardens will be bold and lively for residents and neighbours alike.'